Operation Elveden: Met Police staff member arrested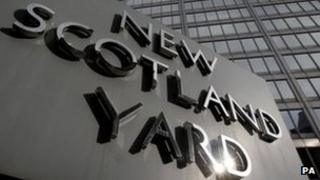 A member of Metropolitan Police staff has been arrested as part of the inquiry into inappropriate payments by journalists to police and public officials.
The 38-year-old woman, who works at the force's central communications command, was arrested at her home in Essex.
Police said she was arrested for suspected misconduct in a public office and corruption.
She is the 67th person to be arrested as part of Operation Elveden.
Police searched the member of staff's work and home addresses, the BBC understands.
Those arrested in Operation Elveden so far include journalists, police officers, NHS staff and members of the armed forces.
The staff member is a member of the call handling team, which handles calls from the public, despatch officers to deal with incidents and provide communications support for big events.
The Met's central communications command is where emergency calls are taken. It handles thousands of 999 calls per day, with more than 2,000 staff members working across its three sites in London.
It also despatches officers to deal with incidents, and provides communications support for big events.
Operation Elveden is being conducted by the Metropolitan Police, supervised by the Independent Police Complaints Commission.
It is running alongside Operation Weeting, the Met's phone-hacking inquiry, and Operation Tuleta, an investigation into computer hacking and other privacy breaches.