WWII bomber salvage attempt bolstered by donations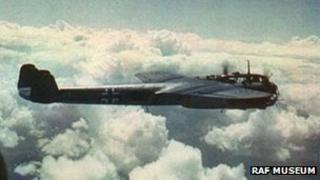 The RAF Museum has raised an extra £100,000 to fund a bid to raise a German World War II bomber from the English Channel.
It is hoping to make a fresh attempt to salvage the bomber before next weekend.
On Sunday, the museum's salvage team came within 40 minutes of raising the Dornier 17 bomber from its resting place on the Goodwin Sands, off the Kent coast.
But rising winds and sea swell led to the attempt being abandoned.
The salvage barge and team of divers are now in Ramsgate harbour, awaiting the kind of calm sea conditions they need for the operation.
The latest 10-day weather forecast suggests they may get them on Tuesday, or on Thursday, Friday and Saturday of next week.
'Excited and enthused'
Extending the operation means increased costs, on top of the original £600,000 budget.
But the museum's director general, Air Vice Marshal Peter Dye, told the BBC it had received substantial offers of help within the last 48 hours, including at least another £100,000 from individuals, and from organisations in America and Germany.
"We have been hugely encouraged by the support we've received over the last few days," he said.
"Everyone around the world has been excited and enthused by what we've been trying to do.
"Everyone can see how close we were. They know we didn't really run out of money, we ran out of good weather, and people have rallied round to help us."
The extra money has allowed the museum to keep the salvage team in place until the end of next week.
He said the salvage barge would only set off to sea again once there was a favourable weather window and a reasonable prospect of being able to raise the aircraft.
The wreck is believed to be the only intact example of a Dornier 17 in the world.
The aircraft was a mainstay of the German bomber fleets during the Battle of Britain in 1940. The wreck is believed to be aircraft call-sign 5K-AR, shot down on 26 August that year at the height of the battle.