Newspaper review: Woolwich murder pondered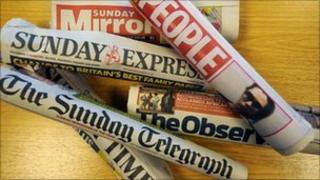 The Sunday newspapers feature considerable further coverage of the aftermath of the murder of Drummer Lee Rigby in Woolwich on Wednesday.
The Sunday Times claims fresh evidence has emerged of what it says were opportunities missed by the British authorities to prevent the attack.
It is one of a number of papers to print a photo said to show one of the suspects, Michael Adebolajo, appearing in court in Kenya in 2010, accused of leading a group of extremist youths.
A schoolfriend tells the Sunday Mirror that Michael Adebolajo was a bright and funny boy at school - but that he changed in his teenage years after falling in with a notorious gang from Hackney, east London.
The friend said he had been a popular pupil who loved playing football and rounders and was in the top group for English and maths.
'Brutal act'
Leader writers grapple with what to make of it all.
According to the Observer, "this brutal act defies an over-simplistic response".
"Terrorism didn't start on 9/11," it says.
"A terrorist started the First World War. The madness of inhumanity is always only a shot or a knife thrust away."
According to the Sunday People, Drummer Rigby's death has "left our country less united than it was before".
It believes work to heal the rifts religion, race and culture can cause should begin in schools.
The Mail on Sunday welcomes Prime Minister David Cameron's plans for a new task force of senior government ministers devoted to tackling extremism.
The paper calls it "an important first step".
'Crazed fanatics'
The Sunday Express says he has shown himself to be "a true leader".
"We will not allow last week's atrocity to change Britain," it says.
"This country is as proud and great as it has ever been. Two crazed fanatics will not alter that. "
But the Sunday Sun is critical of Mr Cameron for flying off on holiday to a Spanish island "leaving Britain engulfed in its biggest terror crisis since 7/7".
Its headline reads: "Crisis? I'm off to Ibiza."
Unflattering observations
"There's never been a political autobiography quite like this," says the Mail on Sunday as it begins serialising Ann Widdecombe's memoirs.
The former Tory minister reveals that she believes Mr Cameron blocked a peerage because of her opposition to fox hunting.
And Miss Widdecombe, who famously said there was "something of the night" about former Home Secretary Michael Howard, picks up where she left off two decades ago adding a string of further less than flattering observations.
One of Britain's leading climate scientists, Prof Myles Allen, has written an article for the Mail on Sunday in which he declares that 90% of the measures adopted in Britain and elsewhere to cut global emissions are a waste of time and money.
Professor Allen believes that emissions need to be reduced, but says carbon capture and storage are the solution - not wind farms or carbon taxes.
In the Sunday Mirror, it is claimed that "Britain's energy watchdog has paid its staff more than £633,000 in bonuses as hard-up families struggle to pay power bills".
The paper says the bonuses were awarded to 448 officials at Ofgem, which is supposed to keep a check on prices.
Nine executives received more than £10,000 each, says the Mirror.