Elle Macpherson's ex-adviser drops hacking damages claim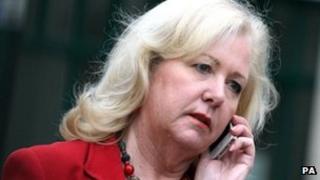 A former adviser to supermodel Elle Macpherson has abandoned her claim for damages against News Group Newspapers.
Mary Ellen Field had sued the publisher of the defunct News of the World, saying that alleged phone hacking of Ms Macpherson's voicemails had caused their relationship to break down.
Lawyers for News Group said there was "no evidence" of hacking of messages left by Ms Field or of her phone.
They could now apply for a "wasted costs order" against her lawyers.
Ms Field had blamed NGN for being dismissed from her job with Ms Macpherson in November 2005 over 11 alleged instances of leaking information to the press.
NGN's lawyer Dinah Rose QC said: "The position is that there has never been any evidence at all that NGN hacked the claimant's phone or hacked any other phone on which she had left a message, or that it has ever interfered at all in any way with her private information.
"Neither has there ever been any evidence that the breakdown in her relationship with Elle Macpherson was the result of any conduct on the part of NGN."
Ms Field had been hired as a business adviser to Ms Macpherson in 2003.
'Fantasy'
Ms Macpherson was one of many high-profile figures targeted by private investigator Glenn Mulcaire, who was jailed for six months in January 2007 for passing information from intercepted voicemail messages onto NoW journalists.
At the Leveson Inquiry into press ethics, set up in the wake of the phone-hacking scandal, Ms Field told how she was suspected by Ms Macpherson of leaking details about the model's business affairs and private life to the press,
Ms Field was falsely accused of being an alcoholic and sent to a US rehabilitation centre. She was then made redundant by her employer.
NGN applied for her action to be struck out on the basis that it was entirely speculative and had no prospect of success, with its lawyers saying at a hearing in December that "this claim is not fanciful; it is fantasy".
Mr Justice Vos said after that hearing there was no substantive material supporting Ms Field's claim but she should be allowed to see whether she could obtain any evidence from Ms Macpherson.
However, on Friday Ms Field's counsel, Augustus Ullstein QC, said she had come to the conclusion, in the light of what evidence was available, that she had no alternative but to discontinue.
Ms Rose announced that NGN were considering taking out an application for a "wasted costs" order against Taylor Hampton solicitors, the firm acting for Ms Field.
Mark Lewis, the solicitor for many phone-hacking claimants including Ms Field, and the lawyer who secured a £2m payout for the family of murdered schoolgirl Milly Dowler, works for Taylor Hampton. If the application was made, and successful, Taylor Hampton could be liable for NGN's substantial legal costs.
Ms Field is also likely to face a large bill for legal costs incurred by NGN.