Prince plays US 'Harry mania' to his strengths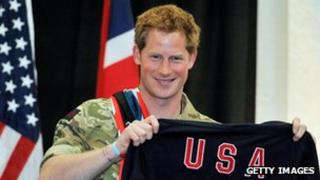 Harry's the prince who sticks to the script - most of the time.
Take a speech he delivered in Colorado Springs. According to his prepared text he was meant to recall planting a tree in the gardens of the British Embassy in Washington.
Instead he went off royal piste and reminded his audience that this was an activity which "most of my family do nowadays".
A future devoted exclusively to tree planting is one Harry intends to avoid.
For now, he'll mix his work as an Apache helicopter pilot with supporting charitable causes and occasional overseas forays.
His latest one, to the US, has gone well. In a land that regularly commits fairytales to celluloid, there have been some women who've made it clear it's time he made them a princess.
'Harry mania'
Harry blushed, in the way redheads do, and the headlines of "Harry mania" were born.
The son of Diana - her name still has resonance here - has been praised in the local papers for his "roguish charm"; for being "down to earth"; and for not acting, in the words of one commentator, "like a snobby twit".
The trip has been designed to play to Harry's strengths. At its heart, has been a visit to the American military's answer to the Paralympics.
He is determined to bring the "Warrior Games" for disabled servicemen and women to the UK. This is not a princely pipedream - there are serious discussions going on, behind the scenes, to make this a reality.
The images generated have been in stark contrast to the ones printed in some papers the last time he crossed the Atlantic - when a naked Harry was captured for posterity playing strip billiards in Las Vegas with strangers.
In the eyes of some, his rehabilitation is complete. Little wonder then, that critics of the British monarchy - such as Republic which campaigns for an elected head of state - have argued overseas royal tours are less about flying the flag and more about projecting a positive image of the principals back home.
Soldier prince
Success overseas is not a new phenomenon for Harry. In Jamaica, last year, he took on Usain Bolt; he hugged a prime minister who wants to move on from having his grandmother as her head of state; and he executed some nifty moves on a dance floor to a Bob Marley track.
Despite the favourable coverage of his time in the US, Prince Harry harbours a deep disdain of the media. At its most intense after his mother died with the paparazzi in pursuit, it hasn't abated with the passage of time.
He would have appreciated the irony of an erroneous report on a US website which suggested he'd held a private party for 40 friends. The guests at the reception were, in fact, members of the British media.
In the years to come, Harry will continue to struggle with this relationship. The ancient institution he represents would wither if ignored.
He will continue to attract glowing write-ups and critical headlines. He is a mix of the soldier prince; the budding charitable entrepreneur; and the royal who desperately wants to be "normal" (though he admitted recently he's not sure what normal is) and have fun - though never again in Vegas.
Harry sticks to the script. Most of the time.