Operation Elveden: Ex-immigration centre employee arrested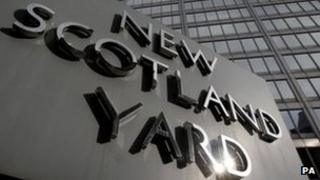 A former immigration centre employee has been arrested by Met detectives investigating suspected corruption.
The 40-year-old man was arrested at around 06:00 BST on Wednesday at his home in Slough, Berkshire, by police working on Operation Elveden.
He was arrested on suspicion of corruption and suspicion of misconduct in public office.
He is the 65th person arrested as part of Operation Elveden, which is running alongside the phone-hacking inquiry.
He was being interviewed at a west London police station.
Operation Elveden is running alongside Operation Weeting, the investigation into allegations of phone hacking, and Operation Tuleta, which is looking at computer hacking and other privacy breaches.
The latest arrest comes a day after news that the Sun newspaper's Whitehall editor, Clodagh Hartley, Jonathan Hall, a press officer for Her Majesty's Revenue and Customs, and Mr Hall's partner Marta Bukarewicz are to be charged with conspiracy to commit misconduct in a public office.
It is alleged the Sun paid £17,475 to Mr Hall in exchange for information, including about government spending plans.
Mr Hall, 51, and Ms Bukarewicz, 44, both from Kentish Town, north London, and Ms Hartley, 38, from Brockley, south-east London, will appear at Westminster Magistrates' Court on 29 May.