Operation Elveden: Sun journalist among three charged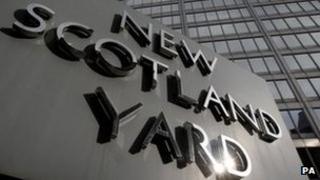 The Sun newspaper's Whitehall editor Clodagh Hartley and two other people are to be charged with conspiracy to commit misconduct in a public office.
It is alleged the Sun paid £17,475 to Jonathan Hall, a press officer for Her Majesty's Revenue and Customs, in exchange for information, including about government spending plans.
It is alleged Mr Hall was mainly paid via his partner, Marta Bukarewicz.
The trio, all from London, are being charged as part of Operation Elveden.
That is the Metropolitan Police inquiry into corrupt payments to public officials.
Gregor McGill, a senior lawyer with the Crown Prosecution Service, said: "It is alleged that between March 30 2008 and July 15 2011, The Sun newspaper paid £17,475 to Jonathan Hall, mostly via Marta Bukarewicz, in exchange for the unauthorised disclosure of information obtained as a result of his employment with HMRC.
"The information allegedly provided included details about government plans, including upcoming but as yet unannounced spending and policy decisions relating to the 2010 Budget and the coalition government's deficit reduction plans.
"Information also related specifically to policy and decision-making within HMRC, including that relating to job losses and casework."
Mr Hall, 51, and Ms Bukarewicz, 44, both from Kentish Town, north London, and Ms Hartley, 38, from Brockley, south-east London, will appear at Westminster Magistrates' Court on 29 May.
Sixty-four people have so far been arrested as part of Operation Elveden, which is running alongside Operation Weeting, the investigation into allegations of phone hacking, and Operation Tuleta, which is looking at computer hacking and other privacy breaches.