Drug gang were 'top of organised crime network'
14 May 2013

From the section

UK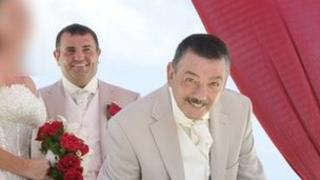 Thirty men have been convicted of involvement in a huge drugs conspiracy and the key players have been sentenced.
Father and son Christopher Welsh Snr, 55, and Christopher Welsh Jnr, 34, were jailed for a total of 32 years for masterminding the plot.
Mark Shield, 45, from Kirkby, a principal gang member, was jailed for 14 years and eight months.
Six other members, all from Liverpool, were also jailed for their role in the conspiracy.
The BBC was given inside access to the police operation.
They were a crime gang trafficking drugs with a street value of tens of millions of pounds, but they hid that operation in plain sight in residential streets across Merseyside.
When police officers broke down doors at safe houses and the gang members' homes they found cocaine, heroin and cash.
For months they had been watching the group who had been using couriers to smuggle drugs to Glasgow in cars and on trains.
Titan, which is the regional organised crime unit in north-west England, says its intelligence suggests there were at least 111 trips.
It estimates the drugs trafficked to Scotland in those journeys had a total street value of between £100m to £200m.
'Trading in misery'
"You don't get to supply this amount of heroin without being at the very top of the organised crime network," says Det Supt Jason Hudson, head of operations for Titan.
"And some of those arrested in Glasgow were significant individuals in their own right.
"We were able to identify the whole network and that was one of the key successes of this investigation."
One senior officer involved in the dawn raids last October said he had "never seen so much powder" in a single day of searches.
At one block of flats a briefcase was thrown out of a window as detectives broke down the door. Among the bags found lying below was 4kg (about 9lb) of heroin.
The leaders of the gang had modest homes in Liverpool but crime was allowing them to live in relative luxury.
Christopher Welsh Jr took family and friends on a combined stag-do and wedding in Mexico.
The bill of more than £50,000 was paid for in cash. Some of the guests posed for photographs in T-shirts that proclaimed "Pablo's Stag" - a reference comparing Welsh to the notorious drug trafficker Pablo Escobar.
Welsh Jr was convicted alongside his father Christopher, another leader of the crime gang.
The group's operation first came to the attention of police in Scotland in early 2012.
Officers made arrests and seizures soon after but it did not seem to disrupt the supply of heroin to Glasgow.
That concerned both Titan and Scottish police who felt it pointed to a particularly large operation. In response they worked together in a joint investigation that lasted six months.
"To dismantle this group and remove that supply of drugs from Scotland and from Glasgow predominantly is a huge success," insists Det Supt Andy Gunn of Police Scotland.
"People who get involved in trafficking misery and trading in misery - because that is what it is - we are determined to eradicate them from the communities of Scotland."
'Dicing with death'
The charity Turning Point Scotland helps drug users at its treatment centre in Glasgow.
Inside its clinic I met David, a former heroin addict who was there in an attempt to stay clean. The drug has cast a shadow over most of his adult life.
"I've not been there for my daughter," he says.
"I've been in and out of prison, I've been in and out of treatment centres and 15 years of my life just went right down the toilet."
Addiction can of course be fatal, particularly as addicts can never be sure of what substances they are taking.
"We've seen it [heroin] cut with glass, talcum powder and other different drugs that you didn't know was in there," reveals Patricia Tracey, the service manager at Turning Point Scotland.
The other worry is that the strength of the drug can vary wildly.
"If you're used to taking something that has maybe got a 20% purity, and then that increases, you're at risk of overdose.
"And when that goes down, you are trying to use more."
David says there is a piece of advice that is passed between people when they stop using heroin.
"When you get clean, buy yourself a passport and a suit," he says. "The passport is to get away. The suit is to wear when you come back for the funerals.
"I got a phone call the other day. My ex-partner's wee brother had died - in his teens and he overdosed and died.
"As soon as you open that bag, you're dicing with death."
None of that worried the 30 men convicted of trafficking drugs from Merseyside to Glasgow.
Titan says it is still investigating the route used to bring both heroin and cocaine into the UK.
And detectives are well aware that, with a continued demand for drugs on the streets of Glasgow, other criminals will try to take the place of those now jailed.