Tia Sharp murder trial: Profile of Stuart Hazell
14 May 2013

From the section

UK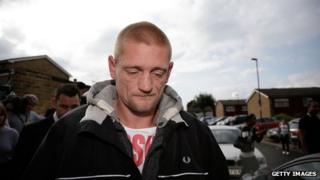 Stuart Hazell has admitted the murder of schoolgirl Tia Sharp. What do we know about Hazell?
"This is a man who has an extraordinary capacity for living through lies."
So said Stuart Hazell's defence counsel after Hazell had changed his plea on the fifth day of his trial for killing 12-year-old Tia Sharp last year, and hiding her body in a loft in south London.
Lord Carlile, mitigating, told the court it was "probably the bravest decision he's ever made in his life. Perhaps the only brave decision".
But police said the evidence against him was "overwhelming" and Hazell, 37, was left with no choice but to admit his crime.
Rape claim
Five days of court hearings at the Old Bailey have built up a picture of Hazell, a man who had a troubled childhood.
He went into care at a young age while his father was in prison and had little contact with his mother, who had worked as a prostitute, Lord Carlile told the court.
From a young age he was involved in petty crime and he started drinking at the age of 13. He was often in trouble at school.
His first conviction came when he was 14, and he later ended up at a homeless hostel in Soho, where he claimed he was raped aged 16.
He had a history of depression, self harm, suicide attempts, drug use and alcoholism, said Lord Carlile.
The court also heard that a consultant psychiatrist said Hazell fulfilled the criteria for unsocialised conduct disorder, a psychological disorder in which a person is socially isolated from their peer group.
Hazell became involved in a short relationship with Tia's mother Natalie Sharp, probably lasting only a week or two, and later with her mother, Christine Bicknell, for five and a half years. He moved in a week after they got together.
Ms Bicknell said in a statement to police that Hazell was not somebody she "dragged in from the street".
Machete attack
Hazell had a number of previous convictions going back to 1991, though none relating to serious or sexual violence.
They included convictions for:
Disorderly behaviour in 2001, for which he was fined
Racially aggravated common assault in 2002
Dealing cocaine in 2003, for which he was jailed for 34 months
Possession of a machete in a public place in 2010, for which he was jailed for 12 months
Grievous bodily harm in 2010 which appears to have involved punching somebody in the face in the street on at least two occasions
Various other offences, including burglary, theft and cannabis possession
During the hunt for Tia after she disappeared last August, Hazell denied abducting her - on one occasion in a television interview - and said she was "like my own daughter".
At the time Hazell was the partner of Tia's grandmother Ms Bicknell.
Hazell said at the time: "My previous has got nothing to do with it. Everyone's got a shady past.
"Did I do anything to Tia? No I bloody didn't. I'd never think of that."
The window cleaner appeared to break down as he spoke, and was supported by Tia's uncle, David Sharp.
Both wore white "Find Tia" T-shirts, and a large picture of the schoolgirl was pinned to the wall behind them.
Hazell said he felt people were "pointing the finger" at him because he had been the last person to see her.
'I don't know'
"I know deep down in my heart that Tia walked out of my house. I know she was seen walking down the pathway, she made her way down that track," he said.
"What happened after that? I don't know."
He later claimed in court that Tia had died after falling down the stairs at the Croydon home he shared with Ms Bicknell.
In reality, Hazell had sexually assaulted and murdered Tia, concealing her body in his loft.
Police who searched his house also found "extensive" pornography featuring young girls.
Sentencing Hazell to a minimum of 38 years, the judge, Mr Justice Nicol, said there was "no doubt" the Hazell had developed a sexual interest in Tia - but he could not be sure if his motivation had been sexual.
Because of this, the judge said, he could not impose a whole life tariff.
'Ultimate trust'
Lord Carlile said the easiest option would have been for Hazell to "brazen out the rest of this case".
But instead he had wanted to spare Tia's family any further suffering by continuing with the trial, and had changed his plea in a "first act of remorse".
After Hazell admitted to the murder, Detective Chief Inspector Nick Scola described him as a "violent and dangerous man who poses a significant risk to young girls".
Hazell was trusted by the family and on the day of the murder he had been caring for Tia while her grandmother was at work, he said.
In his sentencing remarks, the judge said Tia had been happy to spend time in Hazell's company and Ms Bicknell had said Tia had "idolised" him.
Natalie Sharp told the court that she had given Hazell her "ultimate trust".
"Sometimes I feel pity, that I want to hurt him, but I can never hurt him like he has hurt me," she said.