Newspaper review: Focus on EU referendum row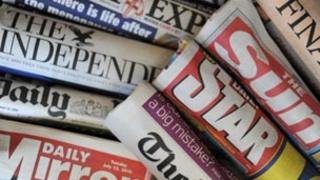 The debate about the UK's relationship with the EU is back in full swing and continues to provide plenty of focus for Monday's newspapers.
The Daily Telegraph concludes that Euroscepticism will dominate the headlines for weeks.
The Guardian talks of Prime Minister David Cameron facing a cabinet crisis and struggling to maintain Conservative party discipline after two of his senior ministers said they would vote to leave the EU if a referendum were held now.
The Daily Mail says government sources have suggested at least seven other Cabinet ministers agree privately with Michael Gove and Phillip Hammond.
But it also detects division in the Labour party and notes that a group, led by the former Europe minister, Keith Vaz wants Ed Miliband to change his mind on holding a referendum.
'Headless chickens'
The Financial Times feels that although both ministers back the prime minister's attempts to renegotiate the UK's relationship in Europe, their intervention will do little to unite the party.
The Times believes their comments will fan the flames of Tory Euroscepticism and pile more pressure on Mr Cameron before a Commons vote this week, expressing regret about the government's failure to introduce legislation guaranteeing a referendum on Europe.
The Independent notes there is no precedent in modern politics for members of a governing party voting for a motion criticising their own Queen's Speech, and of ministers not rallying to its defence.
The Daily Mirror offers an alternative analysis arguing that the UKIP leader Nigel Farage is now calling the shots on Europe, while the Tories are running wildly about like headless chickens.
Meanwhile, Mayor of London Boris Johnson uses an article in the Daily Telegraph to argue that leaving the EU would not solve Britain's economic problems.
Mr Johnson says most of Britain's problems are not caused by Brussels, but by chronic short-termism, inadequate management, sloth and low skills.
Hard thinking
With Nawaz Sharif set to be the next prime minister of Pakistan, the Independent urges the new government to capitalise on the euphoric mood to push for change.
It calls for action to tackle what it calls the catastrophic shortage of energy which leaves large parts of the country with no power for most of the day.
The Financial Times believes the new administration must raise taxes and do some hard thinking about security, especially before Nato withdraws from Afghanistan next year.
The Guardian reports that Mr Sharif wants to put Pakistan's meddlesome generals in their place and end his country's feud with India.
Old Trafford tears
In an interview with the Independent, Health Secretary Jeremy Hunt outlines new measures to help dementia sufferers
From next year, he wants every vulnerable elderly persons in England to have an NHS worker to manager their care needs.
The Times reports that radical Islamist leaders have preached to crowds of UK university students at nearly 200 events in the past year.
The findings are based on research by Student Rights, which was set up to tackle extremism on university campuses.
The front page of the Sun shows Manchester United manager Sir Alex Ferguson wiping away tears during his final game at Old Trafford before retiring.
The Guardian's David Conn describes how he looked "very human, even a little vulnerable".
For the Daily Telegraph it was a remarkable afternoon - he left in style and a winner.
Finally, the secret to becoming a successful chief executive of a business has been analysed by management consultants for years, but now the Times suggests there is a new factor to be considered.
It reports on a study of nearly 800 male leaders of US companies that found those with the deepest voices earned more on average than those with reedier tones.