Post offices face 'mass closures' due to falling income
11 May 2013

From the section

UK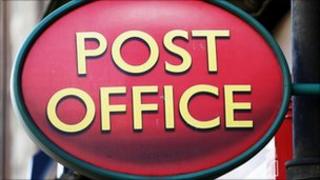 Struggling local post offices are facing an "extremely uncertain future", according to the people who run them.
Sub-postmasters are blaming falling incomes and a lack of new work for their difficulties.
Research carried out by their federation, the NFSP, found many branches and retail outlets were under serious threat.
The Post Office said it was developing products to bring in new business and was not planning a "closure programme".
According to the NFSP, its survey showed a failure of government plans, announced in 2010, to revamp the postal service.
Responses to 743 questionnaires revealed just 17% of sub-postmasters said they could see a strong future for their business.
And 51% said they had seen their pay from the Post Office decrease in the past year.
The research concluded Post Office overheads increased for 70% of respondents while staff costs rose for 48% of those who responded.
'Major financial crisis'
George Thomson, general secretary of the NFSP, said: "There is now little doubt that the government's promise of no more planned closures was hollow, and that the failure to make full use of the network will lead to mass closures through the back door.
"Sub-postmasters are angry over the shocking failure of both Post Office financial services and government services to bring in any material increase in revenue for the vast majority of sub-post offices, leaving many with an extremely uncertain future.
"Urgent action must be taken to avert a major financial crisis in the post office network, and further post office closures which will leave the network unable to compete with competitors at a time of huge change."
The UK has more than 11,500 post offices, with around 97% run as private businesses under contract from Post Office Ltd.
The NFSP said the survey revealed few new services had been introduced since 2010, and most of the financial and government services were yielding little or no income for the vast majority of its members.
'Changing retail market'
It said less than 10% of them receive any income from many of the key Post Office financial services, such as credit cards, insurance for homes, cars and vans, and life assurance, as they struggle with rising costs.
Two thirds of those who responded said their attached business - usually a shop or newsagent - was unlikely to remain open if the post office closed.
The NFSP said it believed the key to post office survival was the introduction of banking and financial services which lead to frequent repeat transactions in post offices, including comprehensive access to all high street bank accounts.
The Post Office said it was "confident about growing its business and in turn revenue streams for sub-postmasters".
It said it was one of the fastest growing providers of financial services in the UK and hoped to increase its role in government services.
Kevin Gilliland, Post Office network and sales director, said half of sub-postmasters saw an increase in pay for conducting transactions in 2012-13 and more than 1,400 were signed up to be part of a modernisation programme.
He added: "We are committed to maintaining our network at its current size and to developing products and services which bring in new business for our branches and sub-postmasters".
A spokesman from the Department for Business, Innovation and Skills said: "The government has committed £1.34bn to maintain the network of at least 11,500 post offices across the country and there is not, and will not, be a programme of closures.
"Government funding will allow for the modernisation of around half of the UK's post offices, allowing them to compete in a changing retail market.
"This change will take time, but we are committed to the future of the Post Office and helping it to compete."