Jim Davidson rebailed over sex offence claims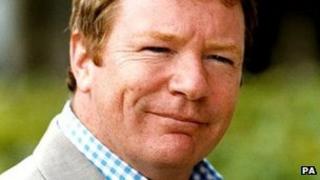 Comedian Jim Davidson has been rebailed by police over alleged sex offences.
Mr Davidson, 59, was bailed to an unspecified date in July.
He was initially arrested in January by detectives from Operation Yewtree, which was set up after the Jimmy Savile scandal although Mr Davidson's arrest is not linked to the former BBC DJ.
Mr Davidson was further arrested on suspicion of sexual offences in March. His solicitor has said he "vigorously denies the allegations".
Henri Brandman declined to comment on the comedian's rebailing.
He has previously said that "several women" had made allegations against Mr Davidson dating back about 20 years, and in one case dating back 35 years.
Operation Yewtree is an inquiry into historical allegations of sexual abuse linked to the entertainment industry.
The investigation was launched in the wake of revelations that ex-TV presenter and Radio 1 DJ Jimmy Savile subjected hundreds of young people and children to sexual abuse over four decades.
The operation has three strands. One is looking specifically at the actions of Savile and the second strand concerns allegations against "Savile and others".
The third strand relates to alleged complaints against other people unconnected to the Savile investigation. Mr Davidson's arrest comes under this category.