Bury picked for women's sport 'experiment'
10 May 2013

From the section

UK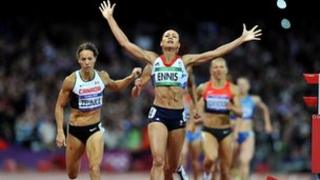 A Greater Manchester town has beaten off competition from across England to be picked for a year-long "experiment" to get more women involved in sport after the London Olympics.
Sport England is investing £1.8m of National Lottery funding in Bury to "rigorously test" how to change the sporting habits of women and girls.
It says it will use the results of the pilot across the country.
Around two million more men than women currently take part in regular sport.
Since London 2012, Sport England, the body which promotes sport in local communities, says around 500,000 more women are playing sport at least once a week.
But it wants to find out what more it can do to boost women's participation in sport.
'School-gate rounders'
The scheme, which will be backed by a major marketing campaign, will include activities such as outdoor boot camps, running groups and fitness sessions, such as Zumba and aerobics.
There will be more unusual activities, such as "school-gate rounders", designed to offer mothers on the school run the chance to get active.
Programmes for older women, such as Pilates, will also be available.
The activities on offer will evolve over the year based on feedback.
Culture Secretary Maria Miller said the programme would build on the "triumph" of women's sport in the Olympics by gold medal winners, such as Jessica Ennis and Ellie Simmonds.
Mrs Miller said: "It is vital that we build on that success and get more girls and women playing sport.
"We are making good progress. More than half a million more women are playing sport in the last year, and our broadcasters are responding to pressure to increase coverage of women's sport. But we want to do more."
Soap star and Strictly Come Dancing contestant Lisa Riley, who grew up in Bury, said it was "brilliant" the town had been picked for the pilot scheme.
"My experiences on Strictly showed me how much fun you can have getting moving, so I'll definitely be looking to join in some of the activities over the next 12 months."
Determined
Sport England is investing more than £1bn between 2012 and 2017 nationally to create more opportunities and facilities for sport in local communities and develop talent.
Chief executive Jennie Price said: "We are determined to make it easier and more appealing for women and girls in Bury to take up sport.
"This campaign is about making Bury a place where playing sport comes naturally - because your friends do it, the women you work with do it and, most of all, because you enjoy it."
Bury council leader Mike Connelly said there would be an exciting range of activities on offer for thousands of women and girls "in every corner of the borough".