State opening: How significant was Prince Charles's presence?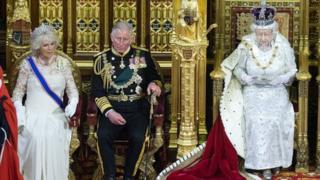 The presence of the Duchess of Cornwall at today's State Opening of Parliament is a reminder of how far the former Camilla Parker-Bowles, and the monarchy, have come since her marriage into the Royal Family eight years ago.
Wearing a tiara which once belonged to the Queen Mother and was loaned to her by the Queen, Camilla accompanied Prince Charles from Buckingham Palace, their future home, to the House of Lords in the Glass Coach which transported Princess Diana to her wedding.
The duchess was also wearing the sash and brooch of a Dame Grand Cross of the Royal Victorian Order to which she was appointed by the Queen last year, and the brooch of the Royal Family Order of Queen Elizabeth II, which was bestowed on her by the monarch after her 60th birthday in 2007.
Although Prince Charles has attended the State Opening 16 times, today was his first time since 1996.
'King-in-waiting'
Buckingham Palace was underplaying the significance, insisting that it just happened that both the prince and his wife's diaries were clear on this occasion and adding that his role is purely one of support.
But some press reports in the run up to the State Opening had suggested it was a sign that Prince Charles was being positioned more as a king-in-waiting.
That theory has been compounded by the announcement that he will take the Queen's place at the Commonwealth Heads of Government Meeting (Chogm) in Sri Lanka in November and by the fact that the Queen's Speech contained no details about the monarch's future engagements, a day after Buckingham Palace announced a review of her long-haul travel.
On previous appearances at the State Opening of Parliament the Queen has set out the highlights of her forthcoming itinerary, including a visit to Canada in the 2010 speech and events to commemorate her Diamond Jubilee last year.
The symbolism of the Chogm announcement and Prince Charles's presence sitting alongside the Queen in the House of Lords today will be striking.
An octogenarian monarch - who has had time off sick but who aides insist is fit and well - with her eldest son and heir who she will have to rely on more and more as she gets older.
With a hereditary system and short of abdication - which the House of Windsor tried once and still bears the scars - there is no alternative.
The Queen has just turned 87 and the Duke of Edinburgh is nearly 92.
Although Buckingham Palace has stressed that the Queen will not be "slowing down" in her schedule of public engagements, it would appear that it is now seen as the right time for Prince Charles to start taking on more duties - not only to relieve his parents but to give the public the opportunity to start seeing him more as a potential King than merely a Prince and heir apparent.