US poker player Phil Ivey sues casino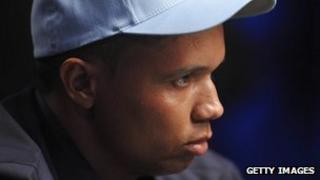 Top US poker player Phil Ivey is suing a Mayfair casino for £7.8m of winnings he says they are refusing to hand over.
In a claim issued at the High Court in London, Mr Ivey, 36, says he won the money fairly playing card game punto banco at Crockfords last August.
He said he was "deeply saddened" the club, which he says gave a receipt for his winnings, "left me no alternative but to proceed with legal action".
Crockfords owner Genting said it would be "defending this claim vigorously".
It is not clear why the winnings were withheld.
'Best player'
Mr Ivey, who lives in Las Vegas, Nevada, and who says he has won more than £10.3m ($16m) in poker tournaments, said in a statement he had "won and lost substantial sums" at Crockfords over the years and had "always honoured my commitments".
"At the time, I was given a receipt for my winnings but Crockfords subsequently withheld payment," he added.
"I therefore feel I have no alternative but to take legal action."
His lawyer, Matthew Dowd, said it "was with great regret that Phil has been forced to issue court proceedings against Crockfords to secure payment of his winnings".
Genting said in a statement that it did not comment "on matters involving individual members".
"However, in this rare instance we are able to confirm that our position, which is supported by strong legal advice, has been made very clear to Mr Ivey's solicitors from the start," he added.
"We shall be filing our defence shortly and defending this claim vigorously."
In punto banco - a game of chance which means "player bank" - bets are placed on whether a player or a banker gets the hand with the total closest to nine.
Mr Ivey is described by his publicity team as "the youngest player to ever hold nine world series of poker championship bracelets" and "one of, if not the best, poker player alive".
Crockfords was founded as a private members gaming club in 1828 by businessman William Crockford.