Andrew Mitchell defends rape accused MP Nigel Evans
6 May 2013

From the section

UK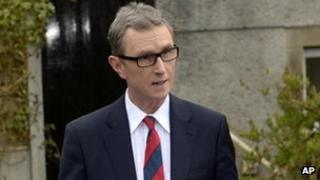 Deputy House of Commons Speaker Nigel Evans should not resign after being arrested over rape and sexual assault allegations, says fellow Tory MP Andrew Mitchell.
Mr Evans has denied allegations he raped a man and sexually assaulted another.
He has asked to be excused from chairing debates on next week's Queen's Speech.
Mr Mitchell told the BBC his colleague should "definitely continue" in post.
The Tory MP, who himself resigned as chief whip in October over allegations he called police officers "plebs", told Radio 4's Today programme that Mr Evans had been his friend and colleague for 20 years.
"I've known him in good times and bad times and I simply do not believe these allegations that have been made about him.
"We have three deputy speakers in the House of Commons so if necessary there could be a degree of burden sharing.
"He has not been charged, he has not been found guilty and we do still live in a country where you're supposed to be innocent until you're proven guilty."
He said if Mr Evans was to be charged, that would be "a different set of circumstances" but the question was hypothetical.
'Completely false'
Mr Evans's solicitor has already said the MP does not intend to quit as deputy speaker or as an MP.
The 55-year-old was questioned on Saturday about the alleged attacks on two men between July 2009 and March 2013 in Pendleton, Lancashire, and bailed until June.
Speaking outside his home on Sunday, Mr Evans said the complaints were "completely false" and he could not understand why they have been made.
He has asked to be excused from chairing any of next week's debates on the Queen's Speech, which are expected to last for several days.
The Speaker's Office said he would be available for other duties but advised that the number of duties in parliament's first week back after recess was in any case limited.
Mr Evans, MP for Ribble Valley since 1992 - who came out as gay in 2010 - was elected as one of three Commons deputy speakers three years ago.
The deputy speaker of the house is elected by all members of the House of Commons.
As deputy he has the same power as the current speaker John Bercow when sitting; he or she controls debates and maintains discipline and also has the deciding vote in the case of a tie in the house.