Newspaper review: Press report on Evans arrest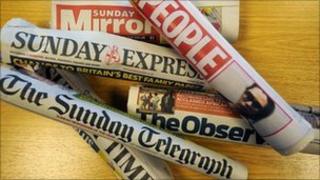 The arrest of Conservative MP Nigel Evans, on suspicion of sexual offences, is on the front page of many Sunday papers.
The Sun says the arrest has "stunned" Westminster, and it quotes friends as saying it was "a bolt from the blue".
The Sunday Mirror says shockwaves reverberated around Whitehall, while the Mail on Sunday prints two pages of pictures of police officers outside Mr Evans' house in Lancashire.
It asks whether the arrest could trigger a by-election, while the Sunday Times thinks he is likely to come under pressure to step aside from his role as a Deputy Speaker.
Mr Evans has been released on bail until 19 June.
Referendum 'demand'
The Observer says Tory concern about the rise of UKIP has "burst into the open", with senior Conservatives demanding two referendums on Europe to try to block Nigel Farage and what it calls his rampant anti-EU party.
The Sunday Telegraph says the demand is for an early "mandate" referendum, with an "in-out" vote taking place by 2017. It says the idea has wide support across the Tory party.
The Sunday Express and the Mirror say Nigel Farage would demand David Cameron's "head on a plate" as the price of any electoral deal - partly because of his description of the party as "fruitcakes".
The Mail urges Mr Cameron to resist any overtures, calling the idea "a poisoned electoral pact". But it is clear it wants Mr Cameron to respond to the UKIP threat, saying bold and dramatic action is needed.
The Independent on Sunday says Chancellor George Osborne has "dug himself a hole" by putting road-building at the heart of his plans for economic recovery.
It says there are serious doubts across Whitehall about the wisdom of the strategy, partly because road use has actually been falling steadily for five years.
Royal row
Foreign Secretary William Hague is considering a "dramatic" public plea for the return of the last British national at Guantanamo Bay, according to the Observer.
It says concern is rising about the health of Shaker Aamer, who is currently on hunger strike.
Some of Britain's leading scientists are in revolt, according to the Times.
It says they are angry that Prince Andrew has been elected as a fellow of the Royal Society, despite "an over-colourful past", and the lack of a scientific background.
And the Mirror continues the latest trend of weather stories by urging readers to "fire up the barbie" because of the sunshine over the Bank Holiday weekend, saying Britain will be warmer than Bermuda, Benidorm and Bordeaux.