High Streets: Towns share £1m award for revival schemes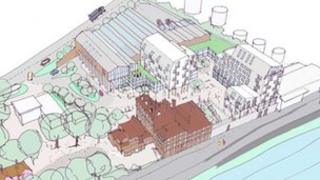 Seven communities in England are to share £1m of government cash for injecting life into their high streets.
It is the latest in a series of initiatives in the wake of retail guru Mary Portas's review into how to rejuvenate struggling town centres.
Rotherham won the top award, £268,058, for bringing in independent shops.
Other awards given by a panel of business groups went to Ipswich, Market Rasen, Gloucester, Altrincham, Herne Hill in south London, and Southampton.
Local growth minister Mark Prisk said the seven areas were a "shining example" to communities across the country.
"It is in everyone's interests to see our town centres thrive, and I want people across the country to take inspiration from these towns and look at what can be done when communities work together," he said.
The High Street Renewal Awards aimed to recognise areas "already delivering the most effective and innovative plans to bring their town centres back to life".
But Clare Rayner, from the Support for Independent Retail Campaign, told BBC Radio 5 live the divided money would not go far enough.
"The increase in business rates alone has cost the High Street in the UK £175m in increased taxes, so they're taking that away and giving another million back," she said.
Increase in customers
The judging panel, which allocated the award, visited the towns and cities applying for the fund to evaluate their work.
It gave:
£93,057 to Herne Hill market in South London which set up its site and pedestrian zone from scratch in less than a year
£88,657 to Old Northam Road in Southampton, where a public-private partnership is turning a Victorian shopping street into a regional antiques centre
£148,057 to the Altrincham Forward group in Greater Manchester where landlords and retailers are working together to bring empty shops back into use
£168,057 to Ipswich which is linking its historic shopping area to a new waterfront development and turning an empty department store into a leisure complex
£101,057 to Market Rasen in Lincolnshire which is setting up community shops selling regional products
£133,057 to Gloucester, for using tourism to attract more business and boost trade.
Rotherham Town Centre is basing its strategy on the idea that independent shops "help differentiate the town centre offer from that of its nearest competitors". It is said to have seen a 12% increase in customers last year.
Last year, another government initiative following Ms Portas's review saw some 27 areas including Margate, Croydon and Morecambe receive funding and advice from retail experts.
However, Freedom of Information requests seen by the BBC in March revealed that just 12% of money from the first tranche of £1.2m had been spent, while pilot towns had spent only 13% of another £1.5m tranche in July.
Ms Rayner told the BBC: "A lot of people would say that's fine - they're taking their time, they're being cautious. But actually, there were statements made in the Portas review in December 2011 which said there was a real need for urgent action.
"Grant Shapps, former higher street minister… said that these pilots would be the 'vanguard of a high street revolution'. There's not much of a revolution taking place if none of the projects that they proposed are happening."
It also emerged in March that the government's £10m High Street Innovation Fund - set up in 2012 in response to the Portas review - had barely been touched, with just 7% of the money spent so far.