Warm weather prompts bank holiday traffic warning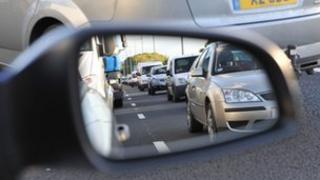 Drivers are being warned to prepare for longer journeys this bank holiday weekend as temperatures rise to more than 20C (68F).
Motoring groups said they expected roads, particularly to the coast, to be busier than normal as people made up for a disappointingly wet Easter.
The AA said it was boosting road patrols by 20% from Friday afternoon to cope with people leaving work early.
Forecasters have predicted a warm and bright weekend across much of the UK.
England, Wales, and parts of Scotland and Northern Ireland are all expected to see some sun during the three-day break.
Monday promises to be the warmest day, with temperatures as high as 23C in east and south-east England and East Anglia, forecasters said.
'Plan ahead'
On the roads, traffic is expected to peak between 09:00 and 15:00 BST on Saturday.
The Highways Agency said traffic was building up earlier than usual as people took advantage of the sunny weather.
Extra delays were likely on the already busy A23 holiday route between London and Brighton, where major road works are taking place, the agency said.
"Our advice is to think carefully and plan ahead," said spokesman Mik Barton.
"It's extremely likely that the roads will be busy on a hot weekend. Check our website before you travel for traffic flow, build in breaks - especially if people are travelling with children - and go well equipped."
The AA said other busy routes to look out for included:
Most sections of the M25, especially around Heathrow
The M4 and M5
The A30 and A303 towards the West country
The M3, M27 and A31 to the Dorset coast
The A47 into Norfolk
The A64 to the Yorkshire coast and the M55 to Blackpool
The M6 towards the Lake District
Motoring organisation the RAC said they were expecting millions of drivers to take to the roads over the weekend.
"Finally we seem to have shaken off the cold and are enjoying a good spell of weather which will inevitably encourage more people into taking a short break this weekend, either in the UK or abroad," said roadside operations manager Matt Dellaway.
"We are anticipating UK roads will be at their busiest since Easter and therefore we are preparing our patrols to deal with the inevitable increase in breakdowns amid greater congestion."
James Beresford, chief executive of tourist board Visit England, said: "An improvement in the weather over the bank holiday should hopefully inspire people to get out and about and make the most of the long weekend."
Engineering works
Meanwhile, airports said they were not expecting a repeat of the Easter weekend, when unusually cold temperatures led to a surge in people leaving the UK for warmer climes.
Passenger numbers are anticipated to be higher than on a normal weekend, but are typical for this time of year, when the country's major airports start to see an increase in passengers ahead of the summer.
National Rail Enquiries said many train operators were planning to run weekend services on bank holiday Monday, with engineering works planned in a number of areas.
On Sunday and Monday, some train services between London Euston and Crewe will be replaced by buses.
Passengers are advised to check before travelling to see how their journey might be affected.