Newspaper review: Hall guilty pleas examined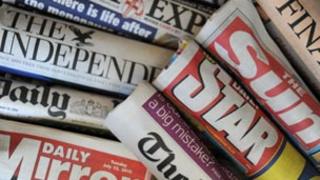 Elections apart, former BBC broadcaster Stuart Hall's court admission that he indecently assaulted 13 girls is the main story in many of Friday's newspapers.
The Daily Mirror carries the headline "Beast of the BBC" while the Daily Mail has interviews with two of the entertainer's victims who have waived their anonymity to tell the paper how he blighted their lives.
In the Independent, journalist Yasmin Alibhai-Brown reveals that an anonymous letter sent to her last May by one of Hall's victims started the chain of events that led to his arrest and shaming.
Several papers point out that Stuart Hall might never have been brought to justice if plans to restrict the right of the media to name people who are arrested had already come into effect.
As the Times headline puts it "Publicity over arrest put Hall in the dock".
In the Sun's words, he might have lived out his life, like Jimmy Savile, as a much-loved BBC legend.
But thanks to press publicity, says the Daily Telegraph, the true extent of his crimes was revealed.
New virus
According to the Sun's main story, Jose Mourinho has agreed to return to Chelsea Football Club as coach for a second time.
It says that the current Real Madrid manager was spotted dining with Chelsea's owner Roman Abramovich at a restaurant near the London team's ground and that he is believed to have accepted a deal worth £10 million a year.
For its lead, the Independent reports that senior scientists have criticised the "appalling irresponsibility" of researchers in China who have deliberately created new strains of influenza virus to help develop new vaccines.
They warn of a danger that the new viral strains created by mixing bird-flu virus with human influenza could escape from the laboratory to cause a global pandemic.
Tory nerves
A number of papers look ahead to the government's plans for the Queen's Speech next week.
The Daily Mail says David Cameron will attempt to settle Tory nerves in the wake of today's election results by vowing to focus on the economy and immigration.
"Nanny-state" measures such as a minimum price for alcohol have been ditched, it adds.
As the Financial Times sees it, the electorate will be given a package of laws that will focus on Conservative priorities.
But the Independent is unhappy about David Cameron's decision not to include plans to force tobacco companies to use plain packaging for cigarettes.
Unfriendly neighbours?
A number of papers reflect on the unpopularity of French President Francoise Hollande on the first anniversary of his election.
The Daily Telegraph describes him as a "pitiful" leader who has alienated most voters, antagonised the German chancellor, driven droves of French into exile and presided over a worsening economy.
The Guardian says it is difficult to find anyone in Brussels or European Union capitals who has been impressed by the French president or believe he has achieved anything of note.
Finally, a survey has found that more than a quarter of us don't know who our neighbours are and fewer than half of us trust them.
According to the study by the Yorkshire Building Society reported in the Daily Mail only 34% of people said they actively welcomed new neighbours.
One in 10 admitted being suspicious of people moving in, while 14% said they were less trusting of those from outside their own communities.