Queen visits Headley Court military rehabilitation unit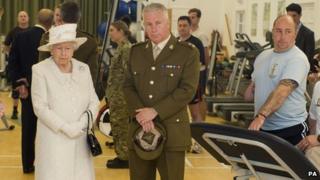 The Queen has visited a military rehabilitation unit for an insight into how seriously injured members of Britain's armed forces are cared for.
It was her first visit to Headley Court, Surrey, and came two days after three British soldiers were killed in Afghanistan.
The centre provides rehabilitation for casualties with injuries ranging from amputations to psychological trauma.
A new £16.9m wing was opened by Prince Charles last year.
The Queen, accompanied by the Duke of Edinburgh, watched as amputee soldiers walked along obstacle courses on artificial legs or manoeuvred wheelchairs.
Captain Nick Beighton, 31, who lost his legs in an explosion while on patrol in Afghanistan in 2009, said: "It's a real honour to be able to host the Queen here. She's our monarch and at the end of the day we all fight in the armed forces under her banner.
"It's great she's shown the interest by coming here and supporting all the work the staff do."
Headley Court has been treating the war-wounded and sick service personnel since World War II, but has expanded to treat casualties from the wars in Iraq and Afghanistan.
Set in the grounds of a building dating back to the Elizabethan period, facilities include a hydrotherapy pool, swimming pool, four gyms and limb-fitting and amputee centre.
The Queen's visit came as a spokesman for the 2nd Battalion The Royal Regiment of Scotland described the death of three of the battalion's soldiers in Afghanistan on Tuesday as a "hammer-blow".