British gambler Marcus Bebb-Jones jailed for US killing
2 May 2013

From the section

UK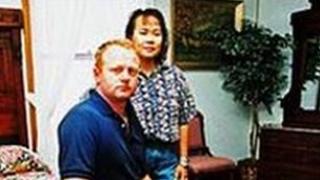 A professional poker player has been jailed for 20 years in the US for killing his wife, who vanished in 1997.
Briton Marcus Bebb-Jones, 49, was arrested at his home in Kidderminster, Worcestershire, in 2009 and extradited to Colorado two years later.
The couple ran a hotel in the state. Mrs Bebb-Jones's skull was found in 2004 in a national park.
Bebb-Jones admitted second-degree murder, telling police he killed his wife Sabrina in a "heat of passion".
In recent years Bebb-Jones had been known for a stint on the online and casino poker circuit, winning thousands of pounds in prize money.
After his wife's disappearance, he went on a gambling spree in Las Vegas, partially funded by her credit cards.
Gunshot to head
Sabrina, 31, was reported missing by a hotel employee in September 1997.
Bebb-Jones is said to have given different accounts about what happened but in each he claimed his wife had left him after an argument while they were on a day trip.
He took his son to Las Vegas in the days after his wife's disappearance, telling colleagues he was going to look for her in the city where her family live.
But detectives said nearly $5,700 (£3,800) had been charged to credit cards and a further $7,000 was refused. The spree is said to have included cash advances at casinos, hotel rooms and car rental.
According to court documents, four days after Bebb-Jones arrived in Las Vegas his toddler son was found alone in a hotel room and taken into state care.
The next day a maid found Bebb-Jones in another hotel room, with a "self-inflicted gunshot wound to the head", according to details of the court documents reported in the local newspaper, the Daily Sentinel, in 2010.
Having refused to speak to US police, Bebb-Jones moved back to the UK with his son in 1998 after selling the hotel.
Skull found
For the next six years the case lay dormant, until a rancher found a human skull - later identified as Sabrina's - near Douglas Pass, between Dinosaur National Monument and Grand Junction in Colorado.
Near the skull, detectives found purple thistle flowers, which had also been discovered on the undercarriage of the couple's van in 1997, a court document stated.
Some 12 years after Sabrina's disappearance, a warrant was issued for Bebb-Jones' arrest in the US for murder in the first degree, concealing death and domestic violence.
He was arrested at his home in 2009 after a raid by the Metropolitan Police acting on behalf of the US authorities and extradited after losing his appeal in 2011.
On Wednesday, District Attorney Sherry Caloia said Bebb-Jones had made a plea bargain, admitting murder in the second degree in exchange for a sentence of no more than 20 years.
He was jailed at Garfield County Court and his sentence will be reduced to reflect the time he has has already served awaiting the trial.