Newspaper industry submits regulation proposals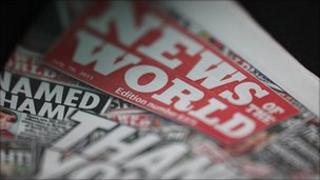 Newspaper industry proposals for a system of self-regulation backed by royal charter have been formally submitted to the Privy Council Office.
The proposals are supported by most of the country's national, regional and local newspapers and magazines.
There are a number of key differences with the plan for press regulation agreed by politicians and campaigners.
But the newspapers said their proposals would still meet the recommendations of the Leveson report on press standards.
Newspaper bosses said their plans would introduce the most rigorous system of press regulation in the Western world, but keep the press free from state interference.
The industry's proposals will be considered by the Privy Council Office, with advice from Culture Secretary Maria Miller.
The cross-party royal charter plans backed by the government are due to be presented to the Queen by the Lord President of the Privy Council, Nick Clegg, for approval on 15 May.
Industry accused
The alternative plan has been submitted by the Newspaper Society, Newspaper Publishers Association, Professional Publishers Association and Scottish Newspaper Society.
The Guardian and the Independent are the only two national newspaper titles out of 11 that have not signed up.
The newspaper industry proposals are different from the government-backed scheme for England and Wales in that they:
Remove Parliament's power to block or approve future changes to regulation. Instead the regulator, trade bodies and a newly created "recognition panel" would have to agree to changes
Would see the chairman/woman and members of the panel selected by an appointments committee chaired by a retired Supreme Court judge, and include one representative of the industry's interests, one member representing the public interest and one public appointments assessor nominated by the Commissioner for Public Appointments for England and Wales
Remove a ban on former editors sitting on the panel
Give newspaper and magazine readers a say on the industry's proposals for regulation
Make it more difficult to bring group complaints
Change the power of the regulator to "direct" the nature, extent and placement of corrections and apologies, saying it should "require" not "direct"
It has been supported by some politicians including London Mayor Boris Johnson and Commons culture committee chairman John Whittingdale.
But campaign group Hacked Off has accused the industry of "unilaterally rejecting" the findings of the Leveson Inquiry, which was set up to investigate press ethics and standards in the wake of the phone-hacking scandal at the News of the World.