Luke Stimson named as missing British sailor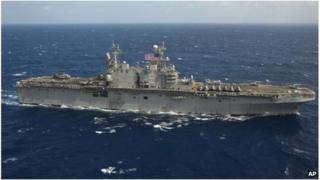 A British sailor who went missing after falling from a yacht in the Pacific Ocean has been named as Luke Stimson.
The US Coast Guard and Navy is searching for the 38-year-old, who fell overboard almost 500 miles from land on Saturday night.
The coast guard said it was unclear why Mr Stimson, who was conscious and wearing a life jacket, fell overboard.
He and a British woman were the only two people on the yacht at the time.
She is described as an inexperienced sailor and was hoisted from the ship by a rescue helicopter on Sunday morning.
The 38ft vessel, believed to be privately owned, was about 2,000 miles west of the Hawaiian island of Oahu and 500 miles west of the Midway Atoll at the time.
The search is being conducted by Navy helicopters and the Coast Guard along with the warship USS Peleliu.
Coast Guard officer Eric Chandler said Mr Stimson had fallen overboard in weather conditions which were not particularly bad.
He added: "I don't know what made the sailor fall overboard. The female with him said he was conscious at the time and he was wearing a yellow life jacket."
The yacht is now abandoned because the US Navy has no way to secure it. Navy crew members have put a tracking device on it and turned on its navigation lights.