Newspaper review: FBI under scrutiny over Boston suspect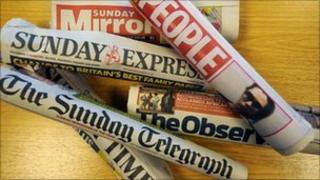 As FBI agents wait to question the surviving Boston bombing suspect, Dzhokhar Tsarnaev, it is the FBI itself that comes under scrutiny on a number of front pages.
The Sunday Telegraph publishes the headline: "FBI and the lost chances."
It says the bureau is facing urgent questions over the extent of its previous knowledge of Mr Tsarnaev and his brother, Tamerlan, who died after a shootout with police.
The Independent on Sunday calls it "the FBI's big miss" and has a picture of Dzhokhar Tsarnaev lying on the ground injured, with his hands behind his back, as he was being arrested.
The same picture is on the front of the Mail on Sunday.
"Taken down," it says. "Now the agonising question: why did the FBI watch his brother for five years - and not stop the carnage?"
The Sunday Mirror says the brothers are thought to be part of a 12-strong terrorist sleeper cell which it refers to as "the dirty dozen".
The Sun has a picture of the street celebrations that broke out after five days of terror came to an end with the arrest of Dzhokhar Tsarnaev. It calls it "the Boston Glee party".
Torture question
According to the Observer, the last British resident being held in Guantanamo Bay may never be allowed to return to his family in London because of an alleged secret deal between the US, Saudi Arabia and the British security services.
Shaker Aamer, 46, has been held for 11 years without charge or trial and was cleared for release in 2007, the paper says.
Were he to return, he would almost certainly become a key witness in Scotland Yard's investigation into allegations of British complicity in torture, the paper adds.
Wealthy individuals
On the day the Sunday Times publishes its annual rich list, it also reports that Tory peer Lord Ashcroft is to pledge at least half of "his £1.2bn fortune" to charity.
It says he will sign up next month to "the giving pledge" - following in the footsteps of America's two richest men, Warren Buffet and Bill Gates and six British donors, who all promise to give away the majority of their wealth.
Finally, the Sun has been speaking to the grandfather of another very wealthy individual.
George Bieber, 61, has an agonising back condition and lives in squalor with his wife in a ramshackle wooden cabin with a leaking roof in Mitchell, Canada, the Sun reports.
He tells the paper they have never seen a penny of pop star grandson Justin Bieber's fortune even though, as a little boy, he was a big part of their lives.
"He never calls us," says George Bieber. "And now I sometimes think he doesn't care."