Newspaper review: Boston drama shocks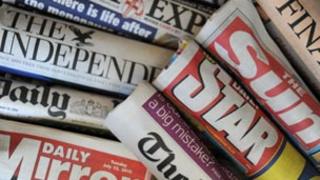 Overtaken by events in Massachusetts, the papers find themselves relegated, like everyone else, to the role of spectators - fascinated and appalled by events following the Boston Marathon bombings.
Boston, says the Daily Telegraph, appeared as "a city in the grip of terror" as police tried to capture the two brothers suspected of planting the bombs, as well as killing a police officer.
One of its leafy suburbs was transformed into "a Hollywood battle zone", the paper adds.
As events - including a police shootout that claimed the life of oldest brother, Tamerlan Tsarnaev - played out on 24-hour news channels, it seemed "like an extended episode of Homeland or 24", says the Guardian.
The pace of the drama is what struck the Independent.
When the FBI asked the public to help identify the grainy images they had found of the suspects, "they didn't even have time to take the calls", the paper says.
Almost all the papers use a combination of maps and photographs to give some narrative order to what the Sun calls "a trail of carnage".
Other pictures, in papers including the Daily Mirror, show the two suspected brothers - "one a schoolboy boxer, the other a happy high school graduate".
CCTV 'benefits'
"So much is still hazy," says the Financial Times.
They were legal refugees, it says, but questions can be asked about how potential terrorists are monitored and how they had easy access to "explosives, firearms and bomb-making equipment".
The Daily Mirror thinks the violence in Boston has shown "that the benefits of CCTV outweigh the negatives".
The Times says the US "should hold its nerve".
It says "there is no reliable protection against terrorism" and that the balance between security and privacy is difficult in a liberal society.
The paper argues that people must learn to trust in the hold that liberty has on the imagination as a more potent force than fanaticism.
'Pre-emptive strike'
Questions of privacy are also addressed by papers which name Rolf Harris as a suspect in the police inquiry into historical allegations of sexual abuse.
The Independent asks: "Why has Rolf Harris's name only come out now?"
The paper which was the first to name him, the Sun, reports that lawyers for the entertainer had threatened to sue.
The Guardian says the information had been an open secret in Fleet Street newsrooms for months and that it sees the Sun's decision to publish as "a pre-emptive strike in a fresh freedom of speech battle".
Mr Harris has not yet made any public comment.
'Dumbing down'
The programme for the Proms often stirs controversy and this year is no exception.
Stephen Pollard, of the Daily Express, is appalled by the inclusion of a concert featuring rappers and DJs.
"Rap is not music," he declares. "It's dumbing down."
"If I stood on the stage of the Albert Hall and belched in syncopated rhythm," he says. "Would I be making music?"