Newspaper review: Gove dubbed 'holiday snatcher'
19 April 2013

From the section

UK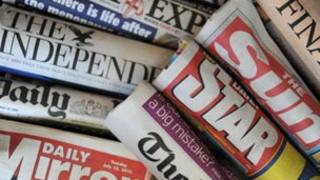 The Daily Mirror calls Education Secretary Michael Gove "the holiday snatcher" for his suggestion of a longer school day and shorter breaks.
It complains that "nothing is immune from Conservative cuts - even holidays" and says "the Cabinet dunce" is looking for cheap headlines.
The Guardian says his ideas would represent "a profound change" for schools.
It is one of many papers to quote a Whitehall source as saying that "we can either start working as hard as the Chinese, or we'll all soon be working for the Chinese".
The Times highlights Mr Gove's claim that the current school year is "essentially set in the 19th century", while the Daily Telegraph warns of chaos for parents and outrage from teaching unions.
It says the proposal is "eminently sensible" but that unions have been hostile to almost every idea for change.
Its editorial says hard-working teachers are being let down by their union which, it says, is "putting adults first and children last."
'Apocalypse revisited'
Pictures of the devastation in the town of West, near Waco in Texas, appear on several front pages.
The Daily Star says the explosion at a fertiliser plant was "like a nuclear bomb", a comparison echoed by the Daily Mirror, which says volunteer rescuers who had lost their own homes were still searching for survivors.
The Independent's photo shows twisted trucks against a backdrop of flames and smoke, with the headline: "Apocalypse revisited: Waco burns again."
The Telegraph says the town's landscape was shrouded with acrid smoke and strewn with shattered remains.
'Brutal lesson'
The US Senate is under fire for rejecting US President Barack Obama's proposals for tighter gun control.
The Times says the vote was "a brutal lesson in power politics" for the parents of children shot dead at a school in Newtown in December - the massacre which Mr Obama hoped would lead to new legislation.
The Independent says "this was the moment to bring sanity to absurdly permissive gun laws" but adds that senators had arrogantly dismissed public opinion.
It thinks that when the "modest" measure expanding background checks on gun purchasers died in the Senate, any hope of gun control in America died "almost certainly, for a generation".
Teletubbies home
A question that many of us has mused over is how would we spend £45m?
It was a real question for Matt and Cassey Topham, who won that sum on the Euromillions lottery draw last year.
The Daily Express says they have decided on a specially-designed, futuristic home in the Nottinghamshire countryside.
The paper prints a picture of the design, comparing it to a Teletubbies home.
The Sun calls it a £5m "lotto grotto", complete with a cinema and a waterfall.
The Daily Mail says it is "a mansion fit for a Bond villain".
It recalls Mr Topham, a painter and decorator, saying after the win that he had often painted huge houses and wondered what it would be like to live in one.
Now he can find out.