Horsemeat row: Food Standards Agency orders review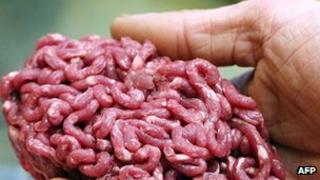 The Food Standards Agency has ordered an independent review of its handling of the horsemeat scandal.
The FSA said its board had agreed the review would be led by Professor Pat Troop, who would have unrestricted access to all FSA staff and documents.
The food safety watchdog came under criticism earlier this year following revelations that beef products sold and supplied in the UK contained horse DNA.
On Monday, the government announced its own review of the crisis.
Food Minister David Heath said that review would look for any vulnerabilities in the food chain that could be exploited by fraudsters.
'Unfit for purpose'
Horsemeat was first discovered in January in frozen burgers on sale in the UK and the Republic of Ireland, and since then traces have been discovered in processed beef products and prepared meals across the EU.
A number of supermarkets and food suppliers have withdrawn suspect products. In most cases it was said that there was no risk to public health; but fears were aroused that the veterinary painkiller phenylbutazone, known as bute, might enter the human food chain.
The FSA requested that local authorities test minced beef products and ready meals sold at shops, wholesalers and catering suppliers for horse and pig DNA above a 1% threshold.
In the wake of the scandal, critics accused the FSA of having a cosy relationship with food companies and downplaying risks to consumers, but the FSA said it was a science- and evidence-led organisation which did not "do things lightly".
Mary Creagh, Labour's environment spokesman, said the food regulatory system was "unfit for purpose".
"The FSA knew that the Irish were testing for horse meat last November, yet did nothing until positive results came back," she said.
The FSA said it implemented 100% testing for bute of all horse carcasses slaughtered in the UK in January and in February it brought in a new system which meant no horse could enter the food chain unless it had tested negative for bute.
The scope of the FSA review is expected to include its response to any prior intelligence of horsemeat in beef products, its relations with the food industry and its powers to look into breaches of food law.
Prof Troop, a former chief executive of the Health Protection Agency and deputy chief medical officer at the Department of Health, is due to submit her report to the board in June.
The FSA was set up in 2000 to protect the public's health and consumer interests in relation to food.