Briton Richard Castle in US court on child sex charges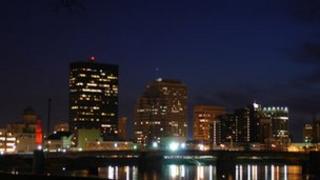 A British man extradited to the US has appeared before a federal court in Ohio charged with child sex offences.
Richard Castle, 46, allegedly used the internet to coerce a juvenile before flying to Dayton, Ohio, in June 2011 to engage in illegal sexual activity.
He was arrested at his home in Northampton on 12 January 2012 by Metropolitan Police officers and was extradited to the US on 12 April 2013.
He is being held without bail pending trial on a date not yet confirmed.
The charges allege that between March 2009 and June 2011, Mr Castle posed as a man named Richard Joshua Parker on the internet to coerce a juvenile to engage in illegal sexual activity.
He then allegedly flew to Dayton, where he stayed for three weeks, to engage in sexual activity with the child.
Mr Castle is also accused of transferring obscene images to a juvenile.
According to the US Department of Justice, those found guilty of coercion and enticement of a minor face a minimum of 10 years in prison and a maximum of life. Travel with intent to engage in illicit sexual conduct can result in a sentence of up to 30 years.
Transfer of obscene material to minors is punishable by up to 10 years.
Following Mr Castle's arrest in January 2012, the Secretary of State signed the extradition order on 12 June 2012.
Mr Castle appealed the extradition order, but that was rejected on 6 March 2013 and he was transferred to the US.
A Home Office spokeswoman said: "We can confirm that on 12 April Richard Castle was extradited to the United States, where he is accused of sexual offences against children.
"His case is now a matter for the US authorities."