Last Royal Marines leave Afghanistan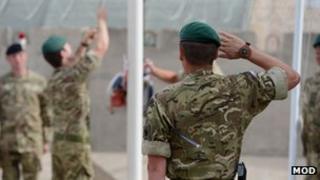 The last group of Royal Marines to serve in Afghanistan is returning to the UK, after more than 10 years of deployments there.
Members of 40 Commando Royal Marines leave the Nahr-e Saraj district as the UK continues the winding down of operations in the country.
The 7,200-strong Royal Marine Corps has deployed units there 12 times.
The UK government is committed to a timetable of withdrawing most of its troops from Afghanistan by 2014's end.
The departing troops have handed over to 1st Battalion Royal Regiment of Fusiliers - after lowering the Royal Navy's white ensign flown for the past six months above their base.
Somerset-based 40 Commando was the first marine unit to serve in Afghanistan in 2001 - with missions in areas including Sangin, Nahr-e Saraj and Musa Qala.
More than 200 honours for acts of bravery and distinguished service have been awarded to Marines during the conflict.
'No safe haven'
Defence Secretary Philip Hammond paid tribute, saying their work "has led to impressive progress in the capabilities of Afghan forces as they take on security responsibility, with decreasing levels of assistance from UK and ISAF (Nato) forces.
"It is these Afghan forces, developed and trained by UK personnel, who will ensure that Afghanistan never again provides a safe haven for terrorists."
There are currently 9,000 British service personnel in Afghanistan, reducing to 5,200 by the end of 2013.
Since entering the conflict in 2001, 441 British service personnel have been killed.