British drug accused 'denied legal visit' in Dubai
7 April 2013

From the section

UK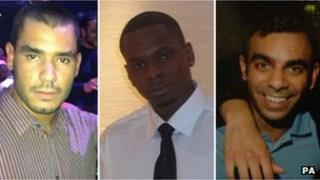 A legal charity says its staff have been refused access to two Britons accused of drugs offences in Dubai.
Reprieve said it sent a lawyer and an investigator to a prison to visit Grant Cameron and Karl Williams. A third defendant, Suneet Jeerh, has been allowed to meet the Reprieve visitors.
The men claim to have been tortured by police but this is disputed.
The three east Londoners deny the drug charges and will be represented by local lawyers in court on Monday.
The men were arrested during a holiday last August after police said they found a quantity of a synthetic cannabis known as "spice" in their car.
They face charges of supplying, possessing, and taking the drug.
The torture allegations include beatings and electric shocks, and Reprieve investigator Kate Higham said it was "scandalous" they had been denied legal visitors.
Gunpoint claim
It is also claimed they were threatened with guns and forced to sign documents in Arabic which the did not understand.
"The United Arab Emirates [of which Dubai is one] must release these men and conduct a full investigation into their torture without delay," Ms Higham said.
In February, Dubai's National Media Council said a "neutral party" had investigated the torture claims and found them to be untrue.
Representatives of Reprieve have seen each of the men since their arrest, but Ms Higham and lawyer Marc Callcutt visited Dubai recently and made two unsuccessful attempts to see Mr Cameron and Mr Williams - on 25 and 27 March. They were allowed to see Mr Jeerh, who is in a different prison.
The next trial hearing is due to take place on Monday and the men, who are all 25, will be represented in court by Dubai lawyers.
Reprieve has voiced concerns about the trial, which it said heard from one of the police officers involved in the torture during the last hearing on 14 March.
Mr Callcutt earlier said the men could face up to four years in prison if convicted of consumption, or between 10-15 years if convicted of possession.
"Under certain circumstances they could be sentenced to death," he added.
Torture claim
In a draft witness statement given to Reprieve, Mr Williams said: "I remember that the police put a towel on my face so I could not see. They kept telling me I was going to die. I was so scared."
Mr Williams said he was put on a bed and had electric shocks administered to his testicles.
"It was unbelievably painful. I was so scared," he said.
"Then they took off the towel and I could see that there was a gun pointed at my head. All I could think was that the gun in my face could go off if the policeman slipped, and it would kill me. I started to believe that I was going to die in that room."
It is alleged the torture took place in the desert, where the men were initially held, and then again in a hotel room.
The UK's Foreign and Commonwealth Office confirmed it had been providing "consular assistance" to the three men, and had "been in close contact with Reprieve".
"The FCO takes all allegations of mistreatment and torture extremely seriously," a spokesperson added.
Dubai authorities have not commented on the claim the men have been denied legal visits.