Newspaper review: Focus on welfare benefit changes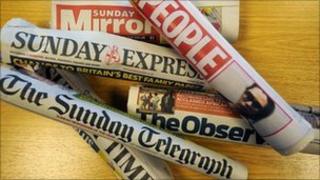 Imminent changes to welfare benefits are the main topic for many of the Sunday papers.
The Observer reports a warning that what Labour calls the "bedroom tax" will be a costly disaster.
It says the head of the National Housing Federation, which represents 1,200 housing associations, has described the change as "a once in a generation decision, which is wrong in every aspect".
There is plenty of support for the changes, too. The Sunday Telegraph says nearly 900,000 people have dropped their claims for incapacity benefit rather than face a new, tougher medical test.
Conservative party chairman Grant Shapps tells the paper the figures demonstrate the need for reform of the system.
Dog controls
The Mail on Sunday reports a legal case which it says "raises new questions about Britain's compensation culture".
It says a female police officer from Norfolk who answered a 999 call is suing the owner of the petrol station she was called to, because she tripped over a kerbstone and injured herself.
The Mail says the claim has wide-ranging implications for anyone who calls the emergency services. The man being sued says he is "incredulous", while the Norfolk force said it had been unaware of the litigation.
Controls on dangerous dogs are to be watered down, according to the Independent on Sunday.
It says that government ministers are to weaken proposals, despite the recent fatal attack on a teenage girl in Greater Manchester. The paper says the Kennel Club and the RSPCA are calling for a rethink.
The call is echoed by the Sunday Express, which says ministers must act now to close loopholes in the law so the menace of dangerous dogs can be dealt with.
Wildlife concerns
The Sunday Times says that changes to the way NHS budgets work have become "mired in controversy".
From Monday, local commissioning boards will play a key role in NHS spending, but the paper says members of the boards have awarded lucrative contracts to themselves.
It says the revelations expose potential conflicts of interest, with deals worth up to £150,000 being given to firms with links to board members.
The Sunday Express claims that lives will be put at risk when a new NHS hotline telephone number is introduced, because the system is "in chaos".
As an icy March comes to an end, there is an understandable focus on the weather in the papers.
The Independent says the chill has cut bird numbers, caused problems for hedgehogs and badgers, and left the great-crested newt "nowhere to be seen".
The Observer warns that, in fact, April is to be the cruellest month for wildlife.
The Sunday Mirror asks whether it is disrespectful to use Easter Day to pray for warmer weather but it also offers a note of comfort - it says a warm front will lead to a heatwave in May.