UK snow: Weather prompts escape to foreign shores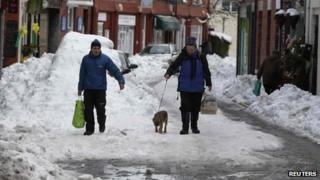 There has been a surge in the number of Britons heading abroad for Easter as they seek to escape the freezing and snowy weather, tourism operators say.
The Association of British Travel Agents said there was "strong demand" for last-minute overseas holidays.
It comes as thousands of homes remain without power in Scotland, Northern Ireland and Wales following snow storms that began last Friday.
The Met Office said further snow was expected in some parts this week.
It said snow showers would continue to affect parts of central and eastern Scotland, south-eastern areas of Northern Ireland, north-east England and the north-east Midlands into Wednesday.
Earlier, it emerged an RAF Chinook helicopter was due to make food drops to thousands of animals stranded in severe weather in Northern Ireland.
'Sunshine destinations'
With the four-day break over Easter approaching, travel agents said the unseasonably cold weather was turning Britons towards foreign shores.
The Association of British Travel Agents' Sean Tipton told the BBC its members were reporting "very strong demand for last-minute overseas holiday deals as customers look to escape the freezing temperatures in the UK".
"Some members are reporting over 50% increases in demand year on year for certain sunshine destinations," he said.
Mr Tipton said bookings for trips within the UK remained relatively "healthy", as city breaks were less dependent on the weather.
But he added last-minute bookings for camping holidays would have been adversely affected by the snow.
A spokesman for tourism operator Inntravel said its "customers seem to be just as fed up with the UK's extended winter as everyone else, and we're seeing continued strong demand for our holidays in the warmer corners of unspoiled Europe and beyond".
Airports said the Easter period would be especially busy this year, with millions of travellers flying out of Britain to international destinations.
Heathrow said it was preparing for its "busiest seven days of the year so far, with 1.2 million passengers expected to hop through Heathrow" between Thursday and next Tuesday - up from 1.1 over Easter 2012.
And a spokesman for Stansted Airport, in Essex, said while it was hard to compare Easters, which fall on different dates every year, the airport was "expecting to be busier than the same time last year".
"There will be 220,000 passengers departing and arriving from Friday to Monday," he said.
David Weston, chief executive of the Bed and Breakfast Association, said the weather was hitting visitors to small accommodation in the UK.
"The main problem is last-minute cancellations. People are worried about the weather, or they see the weather is bad in their part of the world, so they call and cancel," he said.
"The B&B is left with several days empty in peak season... Scotland and Cumbria have been quite badly affected."
Samuel Tombs, of Capital Economics, said the cold had the potential to push the UK into a second quarter of falling national output - which would cause a triple-dip recession.
"Although the current spell of cold and snowy weather is unlikely to have lasting economic consequences, a look back to previous cold snaps suggests that it might just be enough to make the difference between GDP stagnating and falling in the first quarter," he said.
Meanwhile, around 5,450 homes still have no power in Scotland and Northern Ireland after snow and strong winds damaged cables late last week.
Around 3,500 homes on Kintyre and 1,500 on Arran are waiting to be reconnected, while a further 250 homes remain without electricity in Wigtownshire, Dumfries and Galloway.
In other developments:
A Met Office spokesman said "strong easterly winds and some light snow showers" would continue on Tuesday, mainly across central, eastern and northern areas where a yellow warning is in place.
A yellow warning for snow is also in place for eastern parts of Northern Ireland, he said.
Temperatures on Tuesday would only reach 3 or 4°C by day, with as much as 5cm of fresh snow falling in parts.
Looking ahead, he said wind and snow showers were "likely to continue across north-eastern and central parts of the country, although the odd wintry flurry is possible almost anywhere".
The Easter weekend will remain cold, with the odd flurry of snow possible in eastern areas.