Military Cross for 'cool-headed' soldier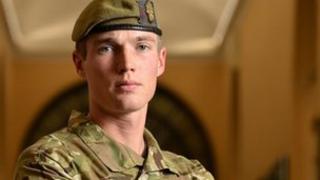 A soldier who "kept a cool head under fierce fire" as he led a 200m charge across open ground in Afghanistan has been awarded the Military Cross.
Capt Mike Dobbin, 28, of the Grenadier Guards, is among 118 people recognised in the latest military honours.
He led his soldiers to defeat the enemy against the odds on four occasions.
They included the incident that killed L/Cpl James Ashworth, who was this week awarded the UK's top gallantry medal, the Victoria Cross (VC).
Now his platoon commander has been honoured with the Military Cross.
Enemy territory
Capt Dobbin, from Reigate, Surrey, led the attack in the face of machine gun fire just metres away.
In another incident, deep in enemy territory, part of the platoon found themselves seven metres away from four armed insurgents and a fierce firefight ensued with Capt Dobbin charging forward to drive the enemy away.
His citation hails his "repeated courage at pivotal moments" saying his "cool head under fierce fire inspired his men to succeed when the odds were most against them".
"He never once flinched from danger and always led from the front," it says.
Capt Dobbin said it was "tragic" that units were not given honours or awards "because there's lots of guys that go unrecognised for amazing feats of bravery".
"Whenever I put that medal on, I will absolutely think of every man who was on the platoon those days."
Sgt Roy Geddes, of the RAF Regiment, has also been awarded the Military Cross after he helped to fight off a group of insurgents who attacked Camp Bastion in September.
Sgt Geddes, from Elgin, Moray, who was praised for breathing "fire into the spirit of his men", continued in the battle despite receiving a knee injury when a rocket-propelled grenade hit one of his vehicles.
And L/Cpl Lawrence Kayser, 27, from 1st Battalion the Royal Anglian Regiment, received the Military Cross for "exceptionally gallant actions" which "undoubtedly saved a potentially disastrous situation" when his platoon suddenly came under enemy fire in Helmand.
L/Cpl Kayser, from Bulford, Wiltshire, leapt from a ditch and charged at Taliban insurgents, fighting them at close quarters in his platoon's compound.
He drove the insurgents out despite wounding his arm when he was hit by shrapnel from a grenade.
"I'm humbled but I have seen a lot of brave actions in theatre so I'm not sure I'm worthy of it," he said.
"I've never been a medal man but my parents are ecstatic."
Multiple casualties
Army medic L/Cpl Abbie Martin, meanwhile, has been awarded the Queen's Commendation for Valuable Service after running across open ground while under fire to treat a dying comrade.
L/Cpl Martin, who at the time was a private, was on her first patrol.
Days later, she treated multiple casualties after a grenade blast and saved all the injured.
Defence Secretary Philip Hammond said the bravery and commitment of members of the armed forces remained "unswerving".
"Whether fighting for our security on operations abroad or rescuing mountaineers and sailors within the British Isles, they deserve our gratitude and respect.
"I hope that the awards announced today go some way to underlining how much this country values the efforts and sacrifices of our armed forces."
BBC defence correspondent Jonathan Beale said many of those awarded honours were fighting in the heat of Helmand last summer.
It was a tour that had already been remembered for one act of supreme courage by L/Cpl Ashworth who sacrificed his life to take out an enemy sniper, he added.
L/Cpl Ashworth - the first recipient of the VC since 2006 - was chasing a sniper protected by covering fire when he was shot in Helmand.
A report on his actions said his platoon had broken up a sharpshooter team and he was alone in pursuing the one remaining member.
L/Cpl Ashworth died as he was about to throw a grenade.