Newspaper review: Budget to be 'bleak' and 'boring'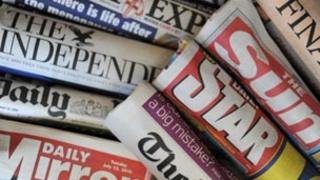 Wednesday is Budget day and the Financial Times says it will be "bleak" while the Daily Telegraph predicts the contents of the red box will be "determinedly boring".
The Times says Chancellor George Osborne will be offering "tough love" and a message of "no turning back".
After complaining about what it says are too many past measures favouring the well-off, the Daily Mirror asks: "So what about the rest of us, George?"
The paper says Wednesday is Mr Osborne's last chance to save the British economy and his own reputation - or go down in history as one of the worst chancellors.
The Sun says "cheers" to the expected scrapping of a 6p rise in beer duty but still calls it "do or die" for the chancellor.
"He must come up with a Budget that sparks growth or let someone else have a go," the paper says.
High heels
An army of Treasury number-crunchers will have helped with Wednesday's budget, having analysed a range of indicators on the state of the economy.
But, according to the Daily Mail, instead of staring at statistics they should be looking down - at women's shoes.
Researchers for a fashion retailer found that the height of heels rises when the economy is booming and gets smaller in times of austerity.
High heels are said to represent a care-free attitude, while in tough times women crave stability and opt for more sensible shoes.
One hundred leading academics have written a joint letter to the Daily Telegraph and the Independent complaining that Education Secretary Michael Gove has included too much learning by rote in the primary school curriculum.
They say that memorising spellings and facts will severely erode educational standards and rob children of the ability to think.
The government says it is giving schools more freedom over the curriculum, not less.
Sensitive information
The Times reports that hundreds of police intelligence files on suspected sex assaults and other alleged offences by celebrities, politicians and VIPs were kept secret - even from investigating detectives.
The paper says some details were effectively hidden within police databases, partly because of fears that sensitive information could be leaked to the press.
Campaigners say it is another example of the protection of celebrities being put above the protection of children.
Meanwhile, it is set to be the coldest March for 50 years with temperatures 20C lower than this time last year, declares the Daily Mirror.
The Guardian recalls that it is 100 years since Edward Thomas wrote his classic book In Pursuit of Spring, telling of exuberant chiff-chaffs and house martins, daffodils and cowslips.
The paper says he would see very little wildlife in the current cold, mist and rain.
'Discernible paunch'
Finally, the Daily Mail reports that master baker Paul Hollywood - star of BBC Two's Great British Bake Off - has set the pulses of female fans racing with his new bread-making series on the same channel.
It says that, despite "his discernible paunch", Hollywood has won admirers for his "deep tan, piercing blue eyes, and sexual way with lumps of dough".
Despite his new show, Paul Hollywood's Bread, being dubbed "patisserie porn", he says he is a reluctant sex symbol.
"But of course it's very flattering and anyone who says it isn't would be lying," he says.
"My wife finds it hilarious."