Newspaper review: Concerns over press watchdog deal
19 March 2013

From the section

UK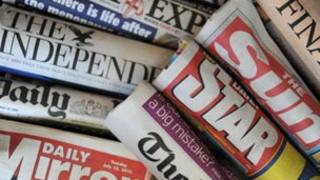 Tuesday's papers have plenty to say on the political deal for a new press regulator, backed by royal charter.
The Times speaks of a bleak episode in the story of press freedom.
It says the prime minister spoke of a Rubicon which should not be crossed, but says he then "swam the river".
The Daily Telegraph says Parliament has agreed a set of measures which will involve the state in the governance of newspapers and magazines.
The Daily Mirror says politicians have created a watchdog to gag newspapers.
The Daily Mail says it is a bitter irony that the debate about regulating newspapers comes at a time when the internet - which has no regulatory restraints - is driving newspapers out of business.
The Guardian says a statement from the Newspaper Society suggests many powerful players are still calculating whether to play ball - and the political class could discover that the brokering has only just begun.
The Sun asks where David Cameron was when the deal was finalised.
The paper says that, having staked his authority on preserving press freedom, it was a letdown that Mr Cameron - who sent policy minister Oliver Letwin to Sunday night's talks with Lib Dem leader Nick Clegg and Labour leader Ed Miliband - was the crucial figure missing at the monumental moment.
Financial contagion
The banking crisis in Cyprus continues to get widespread coverage.
The Telegraph says officials in Nicosia and in Brussels scrambled to row back on plans for a raid on all deposits - proposals that triggered outrage around the world.
It also reports that British service personnel with savings or property in Cyprus could still face losses despite the UK government's promise to shield them from a levy on banks there.
The Mail leads on the story saying UK ministers have been accused of betrayal .
The Daily Express says the seizure of money from private bank accounts seems guaranteed to provoke financial contagion and that anyone with savings in any eurozone country would be likely to lose confidence that it was safe.
The Guardian says that what is going on in Cyprus could yet shake a continent.
Pet projects
The Financial Times says Chancellor George Osborne will use his Budget on Wednesday to announce a further squeeze on public sector spending and pay.
That will shore up government finances and provide money for pet projects such as childcare vouchers, it reports.
The paper says Mr Osborne wants to end the system which means millions of public sector workers enjoy pay rises as long as they meet appraisal targets.
The Times reports proposals to interview new mothers about how they are coping with parenthood - to help them to bond better with their babies.
The paper says there is concern that too little attention is paid to how mothers manage the transition to being a parent at a time which is crucial to the development of a child's mind.
Clipped wings
The Independent says scientists have found that swallows are becoming faster, more agile fliers as natural selection favours birds that can get out of the way of cars and lorries.
The paper reports an American study which also suggests that birds have shortened wings so that they can take off more quickly and pivot out of the path of danger.
It says their wings have reduced in length by as much as 4mm over 30 years.