Archbishop of Canterbury to miss Pope inauguration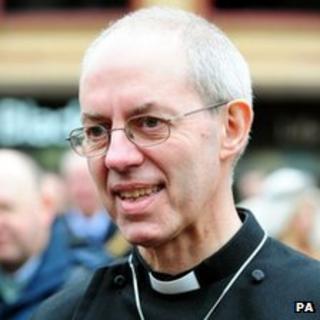 The new Archbishop of Canterbury is to miss the inauguration of Pope Francis in Rome as he will be on a "pilgrimage of prayer", it has been announced.
The Most Rev Justin Welby will be represented by Archbishop of York Dr John Sentamu at Tuesday's Mass for the new Roman Catholic leader.
Archbishop Welby is travelling around the Anglican province of Canterbury.
His pilgrimage comes ahead of his own enthronement as new leader of the Anglican church on Thursday.
A statement issued on his website confirmed Archbishop Sentamu would "lead an Anglican group of fraternal delegates representing the Archbishop of Canterbury and the Anglican Communion", who will attend both the Inauguration Mass on Tuesday 19 March and an audience with the newly-elected Pope the next day.
Dr Sentamu is expected to travel to Rome on Monday in time for the celebrations, and delegation members will return to the UK on Wednesday in time for Archbishop Welby's enthronement.
'Truly welcome'
The archbishop's "journey in prayer" - during which he will visit five cities and six cathedrals - began in Norwich earlier in the week.
The Anglican leader is visiting parts of London on Saturday, as part of his pilgrimage.
According to his website, the archbishop began his day at the corner of Cheapside and Ironmonger Lane in the City of London - the birthplace of St Thomas Becket, who was the Archbishop of Canterbury between 1161 and 1170.
His route includes St Paul's Cathedral and a trip across the river to Southwark, where a lunchtime bell calling people to prayer is due ring out in Borough Market.
An afternoon vigil at Southwark Cathedral is also planned, culminating in a blessing from the new archbishop.
A statement posted on site welcomed anyone to join the journey at "any point".
"Gather in the morning, pray for the whole day, or drop in whenever you have time," it said.
"Come for a few minutes or stay for a few hours, drop in and slip out whenever it suits you, you are truly welcome."
A Lambeth Palace spokesman said the pilgrimage would highlight his spiritual role and the importance of prayer in Christian life.