Your Views: Leaving Germany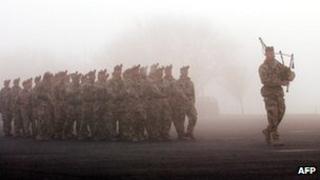 The Defence Secretary, Philip Hammond, has announced where British soldiers withdrawing from Germany are to be relocated.
Some 4,000 Army personnel are already back in the UK.
A further 16,000 soldiers and their families will follow over the next five years, in an acceleration of the planned programme.
It will mean a reorganisation in the UK that will see some some garrison towns and RAF bases expanded, while others will close.
Members of the British army have been based in Germany for almost 70 years.
Families affected by the announcement have been contacting the BBC to share their reactions, as have those who returned to the UK some years ago.
Janet, Bad Fallingbostel, Germany
We moved our family (myself, husband and two children) to Germany in January.
This is our first posting.
Within days of arrival, colleagues were telling my husband that the regiment would be going home after tour.
Realistically we will probably only be here two years rather than the three.
What I fail to understand is why more and more families are arriving here?
I know of people that are due over as late as August.
If the government are trying to close German bases down why are people still being posted here?
The costs of posting families out here must be huge when you take into account removal cost, disturbance allowance and living overseas allowance!
It seems ludicrous!
Emma, Paderborn, Germany
After being in the same place in Germany for the past 11 years this has come as great news to my family.
I moved here in my early 20s with a nine-year-old and will be leaving with four children, children who have never experienced life in the UK or had the pleasure of going to see nan and granddad for the weekend.
Plus there is nothing worse than your husband deploying to Iraq or Afghanistan and you are stuck in a strange country knowing your family are hundreds of miles away.
But there are also many things about Germany that I know I will miss too.
All in all, I'm looking forward to it. That does seem to be the consensus here.
All we want to know now is where and when.
Andrew, Wiltshire
I was based in Sennelager in Germany and came back 18 months ago.
I loved it and spent a lot of time in Germany where my daughter was born in Munster in Germany in 1990.
I loved and miss my time in Germany.
The people and the culture over there were exciting times and it will be sad to leave the people behind who depend on the military for a lot of their finances.
Especially as I hear through the grapevine that the small businesses will fold once we pull out.
Darren Wilkinson, Leeds
Some 20 years ago I moved from Soest Germany to Wattisham in Ipswich, Prince Harry's base, and even then it didn't feel good.
We had indifferent opinions coming back to the UK as some service personnel were married to German citizens, the German lifestyle albeit European was still better than crime-ridden, overpriced, dirty Britain.
It's about how it touches people's lives.
How will local schooling take on the children due back to the UK?
When you're based overseas a lot of forces personnel get their kids into British private schools, paid for by the military.
But when they live in the UK that gets pulled back.
Maybe a third to a half of the personnel out there will have children - so it's a consideration for where they move to.
Chris Griffiths, Dumbarton
I am a product of the British being based in Germany.
My father who served nearly 30 years in the Royal Air Force met my German mother in the early 1960s when he was based at the then RAF Geilenkirchen.
I spent 18 years of my life in Germany while my father was stationed there in the 70s, 80s and 90s.
I went to British Forces schools and learned German.
I lived at RAF Rheindahlen, RAF Guetersloh and after I started working for a German company I moved to Berlin just after the wall came down.
I was in Berlin when the Allies and Russians withdrew their presence there, so this latest change is nothing new but one of many since 1945.
The threat and political landscape has changed and so must our resilience and defence.
The memories and friendships made in Germany are still there and I am grateful for having the privilege and opportunity of having grown up there.