Vicky Pryce's brother 'knew about speeding coercion'
4 March 2013

From the section

UK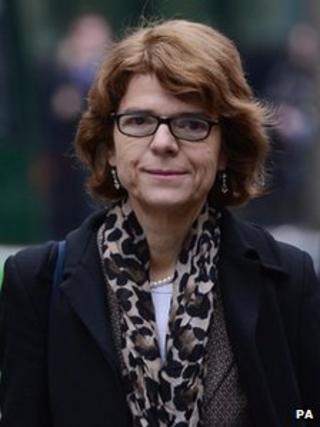 Vicky Pryce's brother knew a decade ago that her then-husband, former minister Chris Huhne, coerced her into taking speeding points, a jury has heard.
George Courmouzis said Ms Pryce had told him of her "irritation" that Huhne had left her with "no option" but to take the points on his behalf.
"It was a fait accompli," said Mr Courmouzis.
Ms Pryce denies perverting the course of justice by taking Huhne's speeding points in 2003.
The 60-year-old from Clapham, south London, is arguing she was the victim of marital coercion.
Couple argued
Mr Courmouzis, who works in sports marketing and lives in Greece, flew to London to give evidence in his sister's defence.
He told the jury that at the time of the alleged cover-up of Huhne's speeding offence, he had been dividing his time between homes in Greece and Notting Hill, west London, because of his business interests.
Mr Courmouzis said that on one occasion after the offence he had been present when the couple had argued over the points.
"It was a point of contention between them, concerning driving habits, the fact that she was forced to do something beyond her will and his [driving] behaviour was not remedied by it."
Mr Courmouzis said he remembered the issue also coming up in 2008 when Huhne lost his driving licence again.
Andrew Edis QC, prosecuting, asked the businessman why he had not given evidence in Ms Pryce's first trial.
Mr Courmouzis said he had been travelling between Athens, the UK and South Carolina in the US, and had not been asked to appear.
He said he had told Ms Pryce's lawyers what he knew 18 months ago but had not spoken to his sister about what he would say in court.
Mr Edis challenged him over how he could remember specifics about a conversation a decade ago, including the fact that Huhne had allegedly been present when Ms Pryce signed the prosecution form, an element of the legal defence of marital coercion.
"Sir, I'm giving you a summary of my recollections and my discussions with my sister," said Mr Courmouzis.
Mr Edis said: "Do you have any real memory of what happened in 2003 or have you just come out of loyalty to support her defence?"
"I remember it", he replied.
Second trial
Summing up the prosecution case, Mr Edis urged the jury of five women and seven men not to be swayed by sympathy for Ms Pryce.
He described her as a capable, manipulative and intelligent woman who acted of her own free will.
Her "real interest" in Huhne's political career changed when he left her for his adviser Carina Trimingham shortly after the 2010 general election, leading her to leak the speeding points story to the press, said Mr Edis.
Julian Knowles QC, defending, said the prosecution description of Ms Pryce as a "tough, armour-plated career woman" was false.
He said several colleagues at the Government Economic Unit described her in the trial as "too meek and mild" to lead it.
"Success does not make you immune to unhappiness," he said.
"It does not make you immune from coercion and pressure at home.
"She was, and could be, subjected to pressure and bullying - sometimes of a subtle type - from her equally successful and equally intelligent husband."
Huhne and Ms Pryce were charged last year over an incident in March 2003 when his car was caught by a speed camera on the M11 motorway between Stansted Airport, in Essex, and London. He was an MEP at the time.
It is alleged that between 12 March and 21 May 2003, Ms Pryce falsely informed police she had been the driver of the car so he could avoid prosecution.
Huhne was in danger of losing his licence having already accrued nine penalty points.
Ms Pryce has already told the court she faced "threats by implication" to their marriage in 2003 if she did not sign the speeding form.
She said she agreed to sign the documents, adding that "the tipping point" was his "threatening behaviour".
Ms Pryce is being retried after Mr Justice Sweeney discharged a jury at Southwark Crown Court after it was unable to reach a verdict.
Huhne resigned as MP for Eastleigh after pleading guilty to perverting the course of justice, and is awaiting sentence.
The vacant seat was won by Liberal Democrat candidate Mike Thornton in a by-election.
The trial continues on Tuesday when the jury is expected to consider its verdict.