Female offender 'hostels' considered
27 February 2013

From the section

UK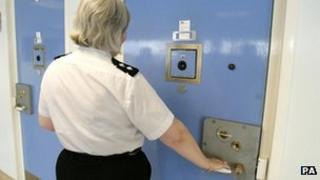 The introduction of "secure hostels" for women offenders in England and Wales is being considered by ministers, the justice secretary has told MPs.
Chris Grayling told the Justice Select Committee the plan for less serious criminals, to be published in a few months, is an "attractive possibility".
But he told it did not mean there would not also be a role for women's prisons.
About 4,000 women are currently in jail, most of whom are serving sentences of six months or less.
Eight out of ten were sent to prison for committing a non-violent offence.
Mr Grayling said proposals were at an early stage of being developed by the Justice Minister, Helen Grant.
He said the plans would be published in the next few months.
In 2007, the Corsten report recommended replacing women's prisons with "smaller, multi-functional custodial centres" within 10 years and reserving custody for serious and violent offenders who pose a threat to the public.
Mr Grayling said he was "very mindful" of the Corsten report.
He said he was considering ideas for female offenders similar to those published earlier this month for "secure colleges" to hold young offenders, aged 10 to 17, with a greater focus on education.
"There's quite an attractive possibility of, for example, secure hostels rather than bigger institutions," he told the committee.
"I'm, in a sense, trying to play devil's advocate and say 'what works, what doesn't work' - let's take a real hard look at whether there's a different model."
Earlier, Mr Grayling was questioned about his plans to overhaul the probation service with a payment-by-results model of provision involving private firms and voluntary groups.
He said contracts would not necessarily be awarded to those offering the lowest bid.
Companies would have to demonstrate expertise in rehabilitating offenders.
Plans are also being drawn up to provide supervision on release to prisoners who have served sentences of under 12 months.
Mr Grayling said the failure to monitor such offenders, who had the highest re-offending rates, was "inexplicable" and "must change".