Newspaper review: Concern over negative-interest idea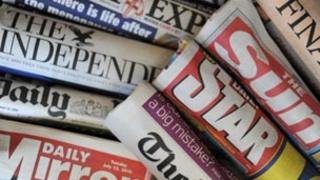 The Times leads on the suggestion by the deputy governor of the Bank of England, Paul Tucker, that negative interest rates should be considered to kick-start the economy.
Negative interest means a central bank charges banks to hold their money - which should encourage them to lend more of their funds instead.
The paper says the proposal has been greeted with disbelief in the City and provoked horror among pensioners whose savings have already been hit by low interest rates.
The Independent talks of "despair for savers".
Pay bands
It says analysts believe negative rates would dent banks' profitability and they would probably respond by cutting rates on savings accounts - or even introducing current account charges.
On the subject of banks' profitability, the Daily Mirror reports that Barclays is set to reveal that more than 600 of its staff were paid over £1m last year.
The figures will apparently come when the bank's annual report next week breaks salaries down into pay bands.
There will also be bands for those earning between £2.5m and £5m, and those earning above.
Miracle man
The Guardian has a sequence of four pictures on its front page showing the final moments of the hot air balloon that crashed in Egypt killing 19 people, including three tourists from Britain.
The paper describes it as one of the worst balloon disasters on record - one that has "dealt another blow to Egypt's ailing tourism industry".
The Independent says the crash is believed to be the "deadliest in the activity's history".
The Sun leads with a picture of 49-year-old Michael Rennie, from Perth, who survived by jumping before impact, being brought into hospital.
It calls him the "miracle man".
Touching reply
The Daily Telegraph has an aerial shot on its front page of what it says is Iran's "Plan B" for developing a nuclear weapon - a heavily guarded plant capable of producing uranium.
It shows steam from cooling equipment at the Arak heavy-water production plant - from which UN inspectors are barred - meaning, the paper says, the facility is operational.
The Telegraph says Western governments and the International Atomic Energy Authority have held information about activity at Arak "for some time".
But its "exclusive" images, taken a month ago, are the first to put that information into the public domain.
Finally, the Daily Mail reports what it calls the "touching reply" given by Sir Paul McCartney to a fan from Brazil who asked him what he would like to do if he had a time machine.
The multi-millionaire rock legend's answer?
"Go back and spend some time with my mum."