Newspaper review: Papers assess cardinal's resignation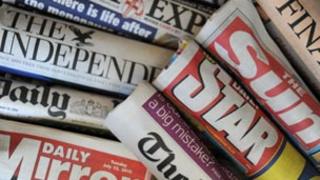 After the abrupt departure of Roman Catholic Cardinal Keith O'Brien, the Independent declares that the winds of change are at last blowing through the Vatican.
"Make no mistake," writes columnist Paul Vallely, "Scotland's leading Roman Catholic has been sacked by the Pope."
Cardinal O'Brien's resignation dominates the front page of the Guardian.
It agrees that Pope Benedict forced him out - a month before he was due to retire.
The paper describes the move as a frantic attempt to minimise the impact of the allegations of inappropriate behaviour made by three priests and a former priest.
The claims are denied by Cardinal O'Brien.
Castro decision
The Daily Mail remarks that the affair has intensified the "sense of intrigue and conspiracy" that has grown around the papacy since Benedict XVI made the surprise announcement of his own retirement earlier this month.
The Times says Cardinal O'Brien's resignation will stiffen the resolve of the forthcoming conclave to choose a new Pope with the credentials to "consign this age of scandal to history".
The papers also dwell on the prospects for succession in Cuba, after President Raul Castro's declaration that he will stand down in five years' time.
The Daily Telegraph says it heralds the end of an era, after almost 60 years of rule by Mr Castro and his brother Fidel.
But the Financial Times says human rights activists are playing down expectations of change in the communist regime.
They point out that a rising star of the party has emerged as the first in line to the succession.
Treasury move
The Daily Express devotes three pages to a wide-ranging interview with David Cameron.
The paper says the prime minister rejected calls for George Osborne to be moved from the Treasury after the downgrade of Britain's credit rating.
He said the chancellor was doing "a great job in very difficult times".
The Express says Mr Cameron also signalled his determination to ensure that Britain was not a "soft touch" for access to benefits by migrants who have paid little tax or national insurance in the UK.
Diamond ring
Finally, the Times carries the heart-warming story of a homeless American man who has been rewarded on a global scale for his honesty.
Billy Ray Harris was asking passers-by for change on the streets of Kansas City when a woman accidentally dropped her diamond engagement ring into his coffee cup.
Mr Harris returned the ring to its distraught owner, Sarah Darling, when she came back looking for it the next day.
Miss Darling and her fiance thanked him by setting up an online fund-raising page.
Donors from all over the world have contributed almost £100,000 - enough for Mr Harris to buy a three-bedroom house.