Legal challenge over arrests of 17-year-old teenagers
26 February 2013

From the section

UK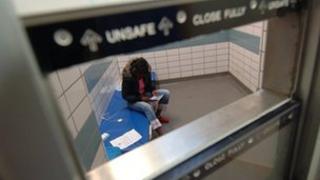 A High Court challenge could change the way 17-year-olds in England and Wales are treated after being arrested and taken into police custody.
They are currently classed as adults which means they do not automatically receive the guidance of an adult to help them through the legal process.
Many lawyers regard this as a legal anomaly that needs to change.
The challenge involves a 17-year-old who was held at a London police station overnight on suspicion of robbery.
Appropriate adult
In the criminal justice system in England and Wales, the only time 17-year-olds are treated as adults - not children - is when they are arrested, detained and interviewed in police custody.
This means that they do not get the range of support that anyone 16 and under automatically receives.
So they frequently will not be allowed to have an appropriate adult - normally a parent, guardian or social worker - informed of their arrest and permitted to attend the police station.
According to the Home Office, every year 75,000 17-year-olds are taken into police custody.
Tuesday's legal challenge concerns one teenager, with no previous convictions, who was held for 12 hours overnight and released without charge.
He was not allowed to call his mother to explain where he was or ask her to come to the police station.
Shauneen Lambe, director of the charity Just for Kids Law, which is behind the challenge, said: "Seventeen-year-olds are routinely treated as adults when dealing with the police, with detrimental consequences for the children."
BBC legal correspondent Clive Coleman said lawyers bringing the case claimed the current situation was an anomaly and breached obligations under international law to treat all those aged under 18 as children.
Northern Ireland changed its law in 2009 to include 17-year-olds.
In a statement, the Home Office said the current law ensured the appropriate level of care for everyone including 17-year-olds.