Libor fines to fund armed forces charities, says Osborne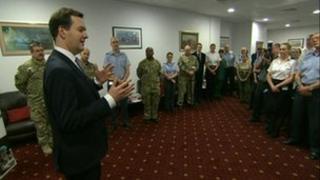 Three military charities are to share £1.3m from fines imposed on banks that had rigged interest rates, Chancellor George Osborne has announced.
The three charities support injured soldiers, provide tickets to events and pay for breaks for bomb disposal teams.
Mr Osborne made the announcement at a project in the West Midlands that has already benefited from the fund.
The Libor scandal surfaced last June when Barclays was fined £290m for fixing the inter-bank interest rate.
Since then, Swiss bank UBS and the Royal Bank of Scotland have been fined hundreds of millions of pounds for rigging the rate, which is used to set a range of financial deals.
During a visit to Fisher House, near Birmingham's Queen Elizabeth Hospital, the chancellor said he wanted to help those who personified the best of British values.
'Best in society'
"I wanted to take money that was paid in fines by people who, frankly, demonstrated the worst of the values in our society and help support those who demonstrate the very best values in our society - and those are the soldiers and sailors and airmen who fight on our behalf," Mr Osborne told BBC Breakfast.
The £4.2m cost of building Fisher House, an 18-room facility where families of injured servicemen and women can stay while their relatives are treated at the hospital, was mostly funded by charities but the government contributed £1m in December from Libor fines.
It is due to open at the end of March.
The three charities set to benefit from Saturday's announcement are:
The Soldiers, Sailors, Airmen and Families Association will get £1.1m to fund support groups for families of service personnel who have been killed or injured
The Felix Fund will get £65,000 to provide breaks for all 32 bomb disposal teams expected to return from Afghanistan in the next 12 months
Tickets for Troops will get £160,000 to provide tickets to musical, sporting, entertainment and cultural events for service personnel and those who have been medically discharged
Guardsman David Watson, who is being treated in Birmingham for injuries caused by an improvised explosive device in Afghanistan three years ago, described the announcement as "fantastic".
"It will help us get what we need and help the families get what they want," said the triple amputee, who met Mr Osborne during his visit.
The government announced plans to distribute £35m in fines for Libor manipulation to help service personnel and their families in October.
The Treasury said the rest of the fund would be allocated over the next two years.