New board 'to improve criminal justice system'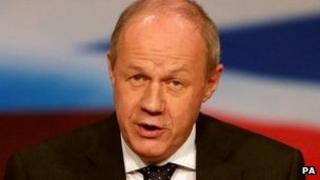 A new board has been set up to improve a criminal justice system that often does not deliver what the public "want or deserve", a minister has said.
Policing and Criminal Justice Minister Damian Green said the board for England and Wales, which will include a senior judge, would meet next week.
It will help tackle a range of problems, including "unforgiveable delays" in the criminal justice system.
Mr Green also said the justice system was failing to exploit technology.
In a speech at the centre-right think tank Reform, in central London, Mr Green gave an update on progress with plans first revealed last year in a government White Paper on reforming the criminal justice system.
Mr Green said the justice system was hampered by the lack of a clear, common purpose and accountability, the failure to exploit technology, and delays.
"To the wider public who come into contact with it, as witnesses, defendants or jurors, but most crucially, as victims, this is a system that often does not deliver the level of service they expect, want or deserve," he said.
Video links
The new criminal justice board will also feature a policing and crime commissioner representative and Alex Marshall, chief executive of the College of Policing - the recently formed professional body.
Mr Green said he was determined that it would not be "another talking shop or target-setting body" but rather it would deal with operational barriers and a lack of co-ordination that frustrates progress.
"The biggest change I want is to see the criminal justice system operating as a single system with a common purpose to help reduce crime," he said.
Mr Green said it was "shocking" that only 44% of magistrates' courts trials started on the day they were listed.
"If every day only 44% of trains left the stations, or 44% of planned hospital operations took place, there would be a national uproar," he said.
"We all know that justice delayed is justice denied. What we should all want to see is justice delivered. Bringing cases to trial more quickly, and then resolving them swiftly is absolutely essential for victims and for witnesses."
A greater use of technology such as video links would help put an end to an "unacceptable" level of paperwork and delays, he said.
"The aim for the CJS must be a single case file that progresses electronically right through the system from police to court and then prison or probation without constant re-keying of information," he said.