Jimmy Savile estate and BBC sued over alleged abuse
13 February 2013

From the section

UK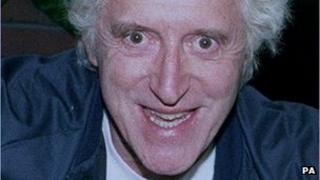 The estate of Jimmy Savile and the BBC are being sued by alleged sex abuse victims of the late DJ and presenter.
Solicitor Alan Collins, of law firm Pannone, said a writ had been issued at the High Court on behalf of 31 alleged victims.
All claimants were taking action against Savile's estate, while up to eight were also suing the BBC, he said.
More than 90 people are pursuing legal action in the wake of allegations of abuse by Savile.
The cases had been put on hold until the outcome of a series of inquiries by the police, the BBC and the NHS amongst others.
Mr Collins said that the number of people getting in touch with Pannone over alleged abuse still "grows on a daily basis".
He said: "The purpose of issuing the writ is to protect our clients' position and to seek management directions from the court to ensure the claims are administered as efficiently as possible.
"At this stage we are unable to expand in detail on the nature of the cases or the allegations that have been made, which range in seriousness from inappropriate behaviour to serious sexual abuse."
In statement, the BBC said: "We're unable to comment on any legal claims of this nature made against the corporation."
Last November, formal letters of claim on behalf of 36 people were sent by another firm, Russell Jones & Walker, to the Savile estate, the BBC, Leeds General Infirmary, Stoke Mandeville and Broadmoor hospitals.
NatWest bank, executor to the late presenter's £4m estate, has frozen the account.
Savile, who died in 2011 aged 84, was a Radio 1 DJ and the presenter of the Jim'll Fix It show on BBC One.
Last month a Metropolitan Police report said he had abused adults and children across the country over a time span of 50 years. The NSPCC said Savile had been one of the most prolific sex offenders in its 129-year history.