Control measure terror suspect missing since December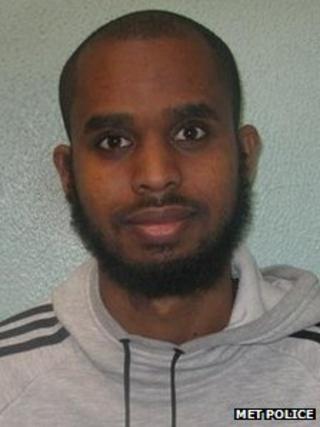 The hunt for a terror suspect who went missing on Boxing Day is "still ongoing", Home Office minister James Brokenshire has told MPs.
Ibrahim Magag was subject to a TPim control measure when he went missing in north London. His disappearance is not believed to be linked to any plot.
Mr Brokenshire, responding to a Commons question, said police were "doing all they can" to locate Mr Magag, 28.
He refused to confirm if Mr Magag was under surveillance when he disappeared.
The government was "reviewing this incident closely," he said.
"If there are practical issues that need to be considered we will consider and adopt them," he added.
TPims - or Terrorism Prevention and Investigation Measures - restrict the movements of people thought to pose a risk to the public, but who cannot be tried for reasons of national security and who cannot be deported.
They were brought in last year to replace control orders introduced under Labour.
Those subject to TPims face restrictions, such as where they stay, who they contact, and where they travel, but differ from control orders in that suspects cannot be forced to relocate to more isolated parts of the UK.
Mr Brokenshire has previously said Mr Magag's TPim was issued to prevent fundraising and overseas travel.
In an urgent Commons question last month, shadow home secretary Yvette Cooper asked Home Secretary Theresa May if she had "personally made it easier" for terror suspects to abscond by "ditching" relocation.
"You must not ignore the evidence on relocations now," Ms Cooper said.
"Isn't it time you took some responsibility and sorted this mess out?"
Mrs May denied that charge and said that, under Labour's control orders, seven terror suspects had absconded and only one of them had been found.
Mr Magag was reported missing after he failed to return to his overnight residence on 26 December. He was last seen in Camden at 17:20 GMT the same day.
On 31 December, an anonymity order was lifted, allowing him to be indentified to aid the police search.