Royals press noses in Maori greeting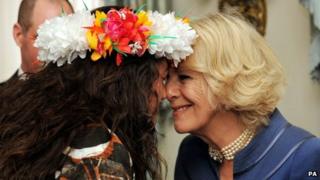 The Prince of Wales and his wife have greeted prominent Antipodeans at a London reception, and performed a hongi - a traditional Maori greeting.
The royal couple pressed noses with Kiwi artist Rosanna Raymond at the event for finalists and past winners of the UK New Zealander of the Year.
Ms Raymond said: "It was done properly, it was a real sharing of breath."
Other guests included chef Peter Gordon and Olympic medallist Mark Todd. Leading Australians also attended.
They included past winners and nominees of the UK Australian of the Year, like Australian-born fashion consultant Yasmin Sewell.
The event was held on Waitangi Day, a New Zealand national holiday, at Clarence House.
Ms Raymond said of the Duchess of Cornwall's greeting: "I thought the duchess did very well... with the sharing of breath you become as one, so it was a beautiful gesture."
She added: "Prince Charles also brought up it was Waitangi Day and that's when he did the hongi and I thought: how wonderful."
Ms Raymond, who has Maori, Tuvaluan and Samoan heritage, was wearing a Tuvalu floral headdress.
The royal couple visited Australia and New Zealand last year as part of the Diamond Jubilee celebrations.