UK sees return of snow, gales and ice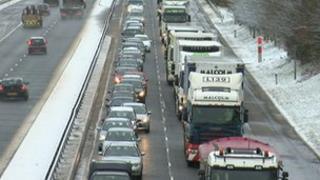 Snow and gale force winds in parts of the UK have caused some disruption, just weeks after severe weather led to school closures and transport problems.
More than 50 schools were closed in Northern Ireland and Scotland, and Manchester, Leeds Bradford and Belfast City airports experienced delays.
The problems were caused by snow which fell overnight in Scotland, Northern Ireland and northern England.
The Met Office has issued some yellow warnings for snow and icy roads.
This means people in parts of Scotland, the north of England and the Midlands should be aware.
Overnight, up to 4in (10cm) fell on higher ground, with strong winds adding to the difficult driving conditions in affected parts of the UK. Drivers were urged to be careful, particularly on untreated roads.
Police in Dumfries and Galloway said there had been a spate of minor accidents on Tuesday.
In other developments:
BBC weather forecaster Mike Silverstone said there had been some snow fall during Tuesday but much of it had melted as it fell onto lower ground. The band of snow will be followed by some showers which may fall as snow on higher ground, he added.
Widespread ice has been forecast for the north of England and Scotland overnight as temperatures fall below freezing.
Blizzard conditions brought much of the UK to a standstill at the end of January. The cold snap was followed by widespread flooding caused by melting snow and heavy rain.
The enhanced content on this page requires Javascript and Flash Player 9
Map Key
Land
Cloud
Lakes, Rivers & Sea
Fog
Light
Heavy
Frost
Light
Heavy
Pressure Fronts
Cold
Warm
Occluded
Rain
Light
Heavy
Extreme
Snow
Light
Heavy
Temperature tab only
Temperature (°C)
More details from BBC Weather