Newspaper review: Gay marriage row rumbles on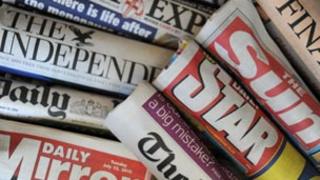 The Daily Telegraph says the new Archbishop of Canterbury will step in to the row about gay marriage, using his first official day in the job to "issue a challenge" to David Cameron.
The paper says Justin Welby is expected to say that marriage is "between a man and a woman, and always has been".
The Archbishop would be just the latest to weigh in on an issue which, according to the Daily Mirror, is ripping apart the Conservative party.
It says prejudice is trumping equality, as irrational enemies of the prime minister try to settle scores with him.
Equalities Minister Maria Miller uses an article in the Times to put the case for the changes.
She tells Tory opponents of gay marriage that they are on the wrong side of history, and that the change is the right thing to do "now and for the future."
But there is little sign that her intervention can calm the waters.
Indeed, the Times reports that David Cameron is mounting a last-ditch effort to win Tory support ahead of Tuesday's vote, but then warns that his personal intervention actually risks deepening the divisions.
Banking shake-up
The Financial Times says George Osborne will provoke fury in the City of London with his threat to break up banks who do not comply with new rules.
It says the chancellor has "bowed to pressure" by suggesting what it calls "draconian sanctions", with Labour accusing him of a partial climbdown.
The Daily Mail calls the proposals "the biggest shake-up of the banking industry in decades".
It says the bill "will prevent taxpayers ever having to shoulder the burden of bailing out fat cat bankers".
While the Guardian says the power to punish errant banks is "symbolically important".
Toy inventor
Afghan President Hamid Karzai has been speaking to the Guardian.
The paper says that, although he does not name Pakistan, Mr Karzai believes the greatest threat to Afghanistan is not insurgents but meddling by foreign powers.
The Times says British aides have been working for months on a strategic partnership agreement between the two neighbours, and David Cameron has set himself the "ambitious target" of brokering a deal during talks.
Finally, tributes are paid to the creator of the Etch A Sketch, Andre Cassagnes, who has died aged 86.
The Independent calls him "the man who shook the toy world", and says he inspired creativity among generations of children.
The Sun says the striking design of the Etch A Sketch - and the ability for its users to simply shake away the picture they have drawn - is etched in many a childhood memory.
"Like many classic toys", it says, "the workings are simple, but to a child can seem magical."